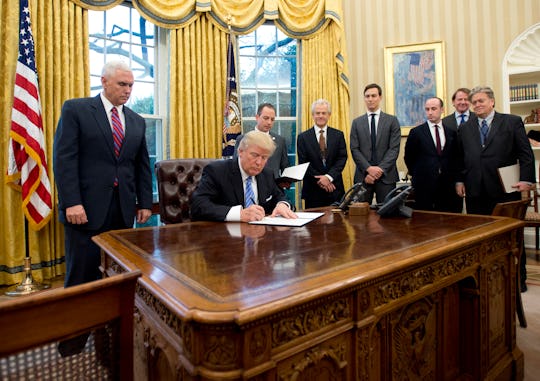 Pool/Getty Images News/Getty Images
Here Are President Trump's First Executive Orders
Just three days into his new administration, President Donald Trump has already used his executive authority to force through several immediate changes in the federal government, according to multiple news reports. On Monday, Trump signed three more executive orders from the Oval Office, fulfilling at least a handful of the campaign promises he had touted as "day one" actions for his administration. The orders, according to Politico, would pull the U.S. out of the controversial Trans-Pacific Partnership, put an immediate freeze on hiring in the federal workforce, and resurrect a Reagan-era prohibition disallowing charities that receive federal funds from offering access to abortions in other countries.
During his inauguration, Trump said that Monday would be his administration's first official work day. But within hours of taking the presidential oath Friday, Trump and his team moved quickly to issue orders to federal agencies to scale back parts of the Affordable Care Act and to halt a cut in mortgage premiums for low-income homeowners that President Obama had announced just days before leaving office. The result is a clear message on the Trump administration's policy agenda, and a nod to the social and fiscal conservatives who might have had doubts about whether he was likely to follow through on his more popular messages from the campaign trail.
The trio of executive orders would take effect immediately, according to CBS News.
Withdrawal From The Trans-Pacific Partnership
The Trans-Pacific trade partnership, a proposed trade agreement between the United States and 11 countries along the Pacific Rim including Japan, Australia, Mexico, Vietnam, and Canada, had heavy support from the Obama administration. The agreement would have established a free trade zone between the countries, eliminated certain tariffs, and established protections around copyright and intellectual property to encourage economic growth. During his presidential campaign, Trump criticized TPP as bad for American workers. His executive order would block U.S. participation, but is also largely symbolic, NPR reported, since Congress had failed to ratify the agreement before President Obama left office.
Imposing a Hiring Freeze On Non-Military Federal Employees
In a move likely to appease fiscal conservatives concerned over government spending, Trump signed an immediate freeze on hiring in the federal workforce. The ban on new hires would not include military personnel, according to CBS News.
Blocking Federal Funding For Charities Offering Abortion Access In Other Countries
Trump's third order targeted abortion access, forcing non-governmental organizations that accept federal funding to promise that they would not "perform or actively promote" abortions as a method of family planning, according to the CBS News report. The Mexico City Policy, originally put in place by President Reagan in 1984, appeared to block organizations from providing abortion access even if federal funds aren't directly used for that purpose. The policy was rescinded by President Bill Clinton in 1993 and reinstated during George W. Bush's time in office. President Obama revoked the policy in 2009.
Given the dramatic extent to which many of Trump's first orders affect the country, it's a guarantee that they will be met with more criticism and applause in and out of Washington as the days progress.