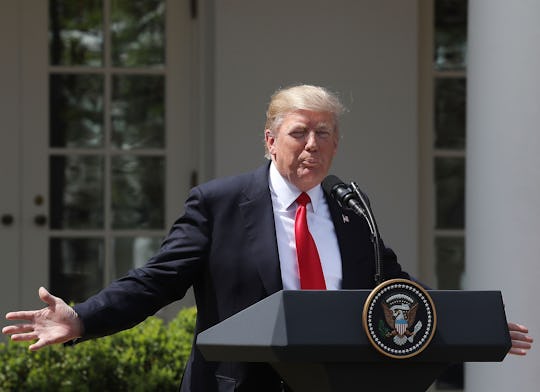 Mark Wilson/Getty Images News/Getty Images
Trump Tweets For The First Time After Syria Attack
Launching nearly 60 Tomahawk missiles into Syria on Thursday, President Donald Trump made a bold statement in response to a chemical weapons attack that took place within the country. Trump's first tweet about the Syria attack, however, proves that he may still be missing the point, or perhaps the significance, of his actions, as well as the message that this sends out worldwide. Romper has reached out to the Trump administration for comment on Trump's tweets but has not heard back at this time.
Trump's first tweet post-attack actually had nothing to do with United States—Syria relations, focusing instead on Trump's recent visit with the Chinese president at his Mar-a-Lago estate. "It was a great honor to have President Xi Jinping and Madame Peng Liyuan of China as our guests in the United States. Tremendous..." (the tweet continued) "...goodwill and friendship was formed, but only time will tell on trade," he shared on Saturday morning. Alas, it appears that his dinner date with President Xi was top-of-mind.
As for his first tweeted mention of Syria, post-attack? Trump made it a celebratory gesture. "Congratulations to our great military men and women for representing the United States, and the world, so well in the Syria attack," Trump wrote. For many, the message is off-the-mark. Trump's three tweets are below:
After hearing about the initial attack, Trump shared that it affected him deeply. "Assad choked out the lives of helpless men, women, and children. It was a slow and brutal death for so many. Even beautiful babies were cruelly murdered in this very barbaric attack," Trump said in a televised statement on Thursday. Thus, Trump opted to retaliate with an attack of his own.
According to The Washington Post, Talal al-Barazi, the governor of Homs province that includes the air base, shared that "at least 13 people were killed in the missile strikes, including five soldiers on the base and eight civilians in areas surrounding the facility," though these figures have not yet been confirmed.
Many are pointing out that Trump's refugee ban targets the very same "helpless men, women, and children" who are suffering at the hands of Assad. Thus, Trump's insistence that this particular attack and those who carried it out "[represented] the United States, and the world, so well" is definitely short-sighted, given his administration's work to keep Syrian refugees out of the country. "The president's compassion must extend to the victims of the Syrian conflict seeking refuge and freedom in the United States," insisted democratic Senator Dick Durbin. At a time when so many lives are at stake, "congratulations" doesn't feel like the appropriate, presidential gesture.