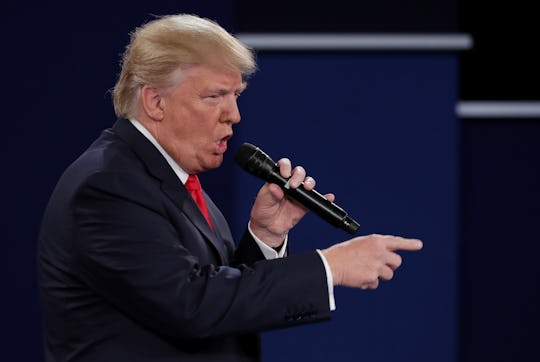 Chip Somodevilla/Getty Images News/Getty Images
Trump's "He'd Be Alive Today" Quote About The Khan Family Is Tone-Deaf, Of Course
Sunday night's second presidential debate in St. Louis, Missouri has been chock full of unbelievable moments and statements — and almost all of them from GOP candidate Donald Trump's bloviating mouth. It seems like there was no topping his disgusting recorded comments about women and sexual assault — but Trump doubled down on his delusions of self-grandeur by bringing up Khizr and Ghazala Khan, Muslim parents whose son died fighting in Iraq. Specifically, Trump said, "He'd be alive today," referring to Khan while simultaneously positioning himself as a savor to soldiers. Trump said:
Captain Kahn is an American hero. If I was president, he'd be alive today.
Trump's feud with the Khan family in July following the Democratic National Convention sent his polls and ratings into the dumpster. You'd think maybe, he'd try to stay away from the subject, as he has been on the defense since leaked audio of an Access Hollywood interview was published by The Washington Post. However, at Sunday's debate, Clinton rightly brought up his comments about Khan within the context of his offensive, divisive, petty rhetoric, prompting a response from Trump. He could have said anything else, or even deflected entirely, but nope; he chose to dig his heels in on his obliviousness as far as they could go.
Twitter was not happy.
To recap: Khizr Khan's speech at the DNC in July was about his son's service to the country, ultimately giving his life for that very cause. Khan's speech was a moving example of American patriotism that rose above race, religion, or creed: Capt. Humayun Khan was a Muslim American, son of Muslim immigrants — and died fighting in Iraq. Khan's wife, Ghazala, stood silently at her husband's side as he bravely told the story of their son. Trump actually had the audacity to say that Ghazala wasn't "allowed" to speak, implying that her Muslim faith kept her submissive. She responded with a heartbreaking and powerful op ed in The Washington Post:
I cannot walk into a room with pictures of Humayun... Walking onto the convention stage, with a huge picture of my son behind me, I could hardly control myself. What mother could?
As the Trump-Khan feud died down over the summer, their pain has been brought up in such an ugly, self-serving, classless way by Trump at the presidential debate:
But it's certainly no water off Trump's back: He'll probably just deny he ever said such a thing, even though it was seen live by millions of people and recorded in perpetuity on the internet. Denial seems to be Trump's M.O. — but there's no denying that Trump crossed a line on Sunday at the debate.
Updated: Following the conclusion of Sunday's presidential debate, Khzir Khan released the following statement to MSNBC, saying in part: "The only thing that Donald Trump sacrifices is the truth." The Khan's full statement is below: