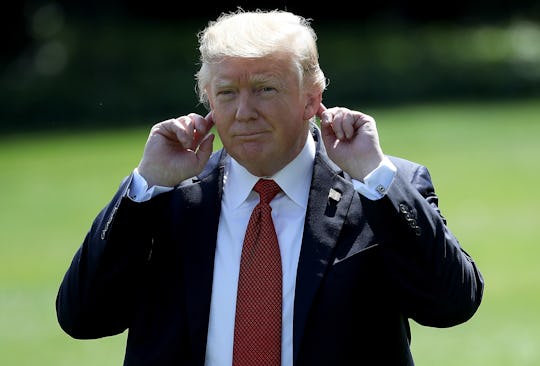 Win McNamee/Getty Images News/Getty Images
10 Months Later, Hurricane Matthew Victims Are Still Waiting For Aid From Trump
President Donald Trump shocked more than a few people when he reached across the aisle to work with Democrats on a compromise that would provide disaster relief funding for victims of Hurricane Harvey this week. But to some North Carolinians, that move might sting just a bit, because Trump's Hurricane Matthew response wasn't nearly as magnanimous. Trump wasn't president yet when Matthew ravaged North Carolina, but he was elected just days later, and his administration inherited the responsibility to provide relief funding, and the way Trump handled Matthew is just about the polar opposite of how he's dealing with Harvey.
In fact, to quote Gov. Roy Cooper, Trump's response was "an incredible failure." According to The Washington Post, Matthew placed half North Carolina's counties in a state of emergency, and more than 4,300 residents were displaced. All told, the storm caused $2.8 billion in damage, not counting economic losses. Immediately following the storm, the state requested about $1 billion from Congress, and received $332 million in November, as well as about $752 million through the Stafford Disaster Relief and Emergency Assistance Act. In December, the Department of Housing and Urban Development provided an additional $199 million. In April, Cooper requested an additional $929 million, just enough to "restore primary infrastructure and to protect our state's residents." The state received just $6 million in return.
In May, Cooper addressed the discrepancy in a letter addressed to Trump, HUD Secretary Ben Carson, Senate Majority Leader Mitch McConnell, and House Speaker Paul Ryan. "Many affected North Carolinians feel that they have been forgotten," Cooper wrote, "and though the flood waters may have receded, I refuse to let their needs go unmet." North Carolina's WNCN reported earlier this week that 10 months later, as they brace for the impact of Hurricane Irene, many of Matthew's victims are still homeless. Apart from sending his daughter-in-law, Lara, to North Carolina with less than $30,000 in supplies during his presidential campaign, you'd think Trump hadn't heard of Matthew at all.
But after Harvey hit, Trump visited Texas twice for photo ops, and even abandoned his Republican Party to strike a deal with House Minority Leader Nancy Pelosi and New York Sen. Chuck Schumer. The $15 billion diaster relief package includes $7.4 billion for Harvey victims, $450 million for small businesses, and $7.4 billion for HUD to spend on "all disasters this year," according to NBC News. It's unclear if any of that can be spent on last year's disasters, which remain unresolved. Keep North Carolina in mind when you're donating to Irma relief next week.