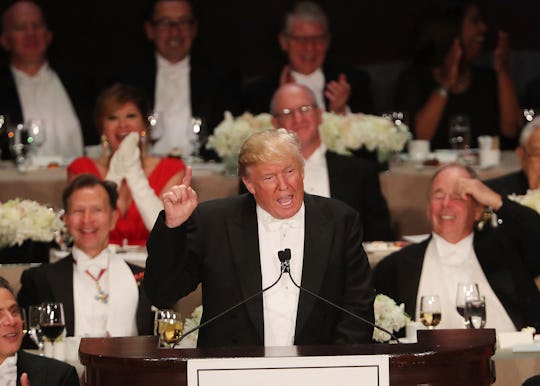 Spencer Platt/Getty Images News/Getty Images
Trump's Most Awkward Al Smith Dinner Lines Earned Boos From The Crowd
The Alfred E. Smith Memorial Foundation Dinner is an annual white-tie charity gala in New York — and every four years, it also usually serves as the last event at which the two competing presidential candidates appear together before the election. Both Republican presidential candidate Donald Trump and Democratic presidential candidate Hillary Clinton attended the event Thursday, and, in line with gala tradition, both gave speeches that were supposed to make the crowd laugh. But not all the jokes went over well, and according to The New York Times, Trump's most awkward Al Smith Dinner lines even earned him boos and jeers from the unimpressed crowd.
In all fairness, there was probably no way the Al Smith Dinner wasn't going to be at least kind of cringeworthy, and chances are both candidates knew it. This election cycle, after all, has been particularly tense, controversial and at times totally outrageous. And after the previous night's bitter final debate in Las Vegas? The fact that Clinton and Trump were then supposed to engage in some good-natured ribbing must have felt super uncomfortable for everyone involved. Not helping matters any was the fact that the Al Smith Dinner is a Catholic fundraiser hosted by New York City archbishop, Cardinal Timothy Dolan — who, let's be honest, probably didn't need a reminder that one day earlier, Clinton reiterated her staunch pro-choice position in a debate question about the Supreme Court, while Trump has been dogged with allegations of sexual assault stemming from the leaked Access Hollywood Trump tapes (not to mention the fact that he's been accused of racism, sexism, discrimination, and straight-up lying since pretty much the beginning of his campaign).
Perhaps sensing the huge potential for disaster, Clinton included a number of self-deprecating jokes in her speech, noting that she "usually [charges] a lot for speeches like these," and that the gala was "such a special event that I took a break from my rigorous nap schedule to be here," according to The Los Angeles Times. Trump, too, managed to garner a few laughs at his own expense, and told the crowd, "the truth is I'm actually a modest person. Very modest. It's true. In fact many people tell me that modesty is perhaps my best quality. Even better than my temperament."
Trump's biggest laugh of the night though, came after a joke about the speech his wife Melania gave at the Republican National Convention — one that drew massive criticism and accusations of plagiarism due to it's similarity to a previous speech given by First Lady Michelle Obama:
I have to say the media is more biased this year than ever before. Want proof? Michelle Obama gives a speech and everyone loves it. They think she is absolutely great. My wife Melania gives the exact same speech and people get on her case. I don't get it. I don't know why.
But when it came time to throw some shade Clinton's way, many felt as though he took it too far, crossing the line between roast-style insults and the kind of calculated political digs seen on the campaign trail. According to TIME, the crowd booed loudly when Trump started to make references to Clinton being corrupt:
Hillary is so corrupt, she got kicked off the Watergate Commission. How corrupt do you have to be to get kicked off the Watergate Commission? Pretty corrupt. Hillary is, and has been, in politics since the '70s. What's her pitch? The economy is busted? The government's corrupt? Washington is failing? 'Vote for me. I've been working on these problems for 30 years. I can fix it', she says.
The crowd continued to boo when Trump spoke about Clinton as a liar, and after a particularly uncomfortable "joke" about Clinton hating Catholics (Clinton, for her part, didn't seem impressed with that one either.)
We've learned so much from WikiLeaks. For example, Hillary believes that it's vital to deceive the people by having one public policy and a totally different policy in private. That's okay. I don't know who they're angry at Hillary, you or I. For example, here she is tonight, in public, pretending not to hate Catholics.
And then, just in case the climate in the room wasn't already uncomfortable enough, he made a joke about Haiti:
Now some of you haven't noticed, Hillary isn't laughing as much as the rest of us. That's because she knows the jokes. And all of the jokes were given to her in advance of the dinner by Donna Brazile. Which is — everyone knows, of course, Hillary's belief that it takes a village, which only makes sense after all in places like Haiti, where she's taken a number of them.
Given that the candidates' speeches mostly just seemed to leave guests feeling largely uncomfortable, you can't help but wonder whether the organizers of the gala regretted extending an invite to the presidential nominees. After all, according to The Daily Beast, if they hadn't invited Clinton and Trump, it certainly wouldn't have set a precedent. The tradition of candidates roasting each other at the Al Smith dinner goes as far back as the election between John F. Kennedy and Richard Nixon, but in 1996, the archbishop at the time opted to not invite then-President Bill Clinton because of the fact that he vetoed a bill against late-term abortions (Clinton's opponent, Bob Dole, was also not invited to make it even). Two other candidates shunned from the dinner? Former-President George W. Bush and his opponent John Kerry in 2004, again said to be due to the Democratic nominee's pro-choice position.
According to The Daily Best, current-archbishop Dolan even received backlash for inviting President Obama to the gala in 2012 because of his position requiring employers to provide health insurance policies that cover contraception. And yet, the current climate of controversy swirling around both candidates in this election makes Obama's stance seem almost inconsequential. After all, Pope Francis himself admonished Trump earlier this year during a trip to Mexico, when he argued, according to The Guardian, that "a person who thinks only about building walls, wherever they may be, and not building bridges, is not Christian." (Trump, unsurprisingly, made sure to hit back at the comment, calling the Pope "disgraceful.")
Perhaps the most relatable joke of the night though came from gala emcee, Alfred E. Smith IV, who told the crowd, "in less than a month, one of these two will be elected president of the United States. Boy, that was a real buzz kill."
Now that sounds like a man who knows how to read a crowd.