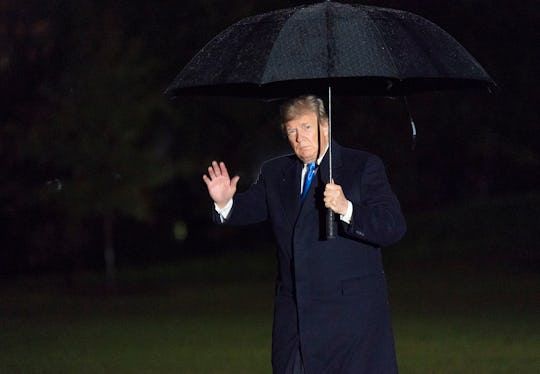 Pool/Getty Images News/Getty Images
Trump's Odd Umbrella Etiquette Has Twitter Drawing Comparisons To A Royal Couple
It's always interesting to me what details the public fixates on when it comes to celebrities, prominent politicians, and professional athletes. One wrong move — or one incredibly adorable move — and suddenly, they're a meme. And that moment in time is forever cemented in time on the internet. (Talk about pressure, right?) As it turns out, Trump's odd umbrella etiquette has Twitter phoning in Meghan Markle and Prince Harry for help. And honestly, I think they're really onto something.
For some context, let's take a look at a couple of recent moments involving the Duke and Duchess of Sussex and an umbrella. Just today, the newlyweds and parents-to-be were pictured standing under an umbrella together — with Prince Harry protectively shielding his pregnant wife from the rain, Harper's Bazaar reported. When it comes down to it, sharing an umbrella with any umbrella-less companion is just a common courtesy. Although it's undoubtedly cute when any couple does this, because it's Meghan Markle and Prince Harry sharing an umbrella, that makes it roughly 1 million times cuter. It's just a fact.
Too sweet, right?
And here's a photo of the royal couple from Oct. 17, when they were attending a picnic at Victoria Park in Dubbo, Australia, according to Glamour. Markle held an umbrella over her husband while he gave a speech. And it's basically the sweetest thing ever.
Now, let's take a look at President Donald Trump's recent umbrella missteps. As Vice reported, Trump was walking up the stairs to board Air Force One on Saturday — umbrella in hand — when he paused for a second at the top. Then he just dropped the umbrella on the platform, still open, and boarded the plane. Like he didn't know how to close it? Or that he didn't know that it could close? Whatever his reasoning, Trump's behavior was certainly bizarre. Check it out.
One Twitter user shared footage of the incident, writing, "Donald Trump does not appear to know how to get an open umbrella through an aeroplane door. There are dogs smarter than this guy." Ouch. But this person does have a point.
Another example of odd Trump-umbrella behavior went down on Oct. 16, when he left Melania out in the rain, People reported. The POTUS was leaving the White House to visit Florida and Georgia following the devastation wrought by Hurricane Michael. Melania joined him under an umbrella he was carrying when Trump suddenly veered off to speak with reporters about Melania's recent ABC News interview and his 60 Minutes interview — leaving his wife without shelter from the elements. "She did a great job on television the other night," Trump told reporters. "And I didn't do so bad either. But she did a great job on television."
According to Glamour, Trump made a similar faux paux earlier this year when he left Melania and his son, Barron out in the rain and hogged an umbrella to himself.
Apparently, social media users are comparing Trump's recurring umbrella mishaps to Prince Harry's excellent — and quite frankly, adorable — etiquette when it comes to handling an umbrella. Along with a side-by-side comparison photo one Twitter user wrote, "Donald Trump and Melania under an umbrella vs Prince Harry and Duchess Meghan Markle under an umbrella-a tale of two marriages."
Another person tweeted, "Trump let his wife get soaked and Meghan held an umbrella over Prince Harry so he wouldn't, that's real love and respect, something Trump clearly doesn't have."
Yet another Twitter user wrote, "President Trump is not protecting First Lady Melania from getting wet, not like Prince Harry and Duchess Meghan did together in an umbrella. My God, President Trump doesn't care about his wife."
Look, in the big scheme of things, umbrella etiquette is way down on the list when it comes to most people's grievances about Donald Trump. There are certainly more pressing matters at hand, such as his "if they had protection inside" remarks following the mass shooting this weekend at the Pittsburgh synagogue, his comments about the migrant caravan heading to the U.S. border, and his admitting to being a nationalist, to name a few recent transgressions
But still. You have to admit it says a lot about someone's character (and the state of his and Melania's relationship) when a person is utterly oblivious to the fact that their loved ones are getting rained on — while they're standing there holding an umbrella over their own head. And it's hard to deny that Trump might be able to learn a thing or two from Prince Harry and Meghan Markle, who make sure to keep the other out of the rain.