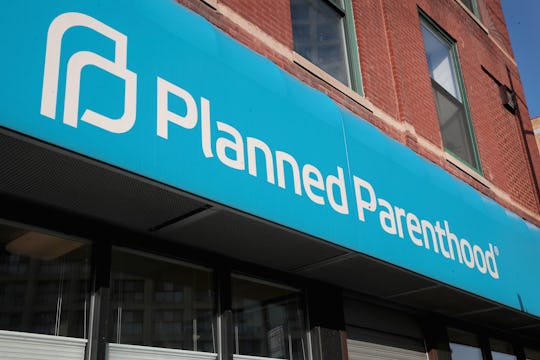 Scott Olson/Getty Images News/Getty Images
Trump's Planned Parenthood Funding Cuts Could Seriously Endanger Moms & Pregnant Women
Under a new Trump administration rule, clinics that provide abortions — or clinics that refer patients to places that do so — would lose federal funding, according to at least three administration officials. The move seems to specifically target Planned Parenthood, but would also hurt local health care clinics and other facilities. And the fact is, Trump's Planned Parenthood funding cuts could seriously endanger moms and pregnant women, and everyone needs to be aware of just how dangerous these cuts will be for women across the country.
The White House is set to roll out a proposal Friday that would basically ban Planned Parenthood and similar organizations from providing abortion and other related services in the same place as operations funded by federal grants for family-planning, according to NBC. Currently, Planned Parenthood accepts some federal money for non-abortion services, according to CNN.
But the Hyde amendment already keeps federal funding from going towards abortions, according to AOL. So Planned Parenthood and other organizations use private money for abortions and related services instead, according to NBC. Under this new rule, services funded with federal dollars would be required to be performed in a different place than abortions, if the facility wants to keep receiving those federal funds. Plus, they would need to be performed by different employees, according to CNN.
The new rule would not technically "defund" Planned Parenthood or similar clinics. But it would severely limit what sort of family-planning services they can offer and how those services would be provided. A Trump administration official said, according to CNN:
This proposal does not necessarily defund Planned Parenthood, as long as they're willing to disentangle taxpayer funds from abortion as a method of family planning, which is required by the Title X law. Any grantees that perform, support, or refer for abortion have a choice -- disentangle themselves from abortion or fund their activities with privately raised funds.
But it's just not that simple. By telling clinics that they can't perform abortions, or even refer patients to places to do them, and still receive federal financial support, the Trump administration is putting a severe financial burden on these clinics and putting moms and pregnant people in danger.
Think about it. A local clinic that has a doctor who will perform abortions — or that refers people to places that will do abortions if that first clinic doesn't want to or is unable to perform the service for a patient — likely doesn't have the money to just open a separate facility with separate medical providers. And that's essentially what the administration is saying these clinics have to do.
One detail of the new policy was unclear, however. Early reports said clinics that receive federal dollars can't even discuss abortion with patients under this rule, such as an early article by The Hill. But one Trump administration official said it wouldn't prohibit or require counseling on abortion, according to The New York Times.
Planned Parenthood receives $50 million to $60 million in annual Title X funding, and in order to keep providing Title X family planning services with that massive amount of funding, the organization and others like it can't refer abortion care or perform it in the same facility as other Title X services, according to Politico.
But none of that federal money goes to abortion services. None of it. Instead, it goes to other family planning services that moms and pregnant women need. In general, Planned Parenthood gets government funding to the tune of $500 million every year, primarily through Medicaid and grants, according to a 2016 Vox article. And most of that money goes to things like offering low-income women family planning services and information such as STD screenings, wellness exams, contraceptive education, and contraceptive coverage, according to Planned Parenthood Action Fund.
Over 99 percent of women aged 15–44 who have ever had sexual intercourse have used at least one type of contraceptive method, according to the Guttmacher Institute. And 89 percent of women living at 0–149 percent of the poverty line use contraceptives. That means a lot of women living at the lower end of that spectrum use contraceptives, and likely need assistance to get it, which they can get with the help of federal funds provided to clinics.
But under this new rule, health care clinics would lose that critical federal funding if they so much as refer abortion providers to women, let alone offer it themselves or have any medical professionals on staff who offer it. So this new Trump administration policy would severely impact the care that moms and women in the United States can get. This new rule is nothing short of dangerous for women, because it could mean a lot less money for women's health care and a lot less access to that care.
Dawn Laguens, the executive vice president of Planned Parenthood Federation of America, said the new proposal is "designed to make it impossible for millions of patients to get birth control or preventive care from reproductive health care providers like Planned Parenthood," according to The New York Times. She added:
This is designed to force doctors and nurses to lie to their patients. It would have devastating consequences across this country.
Whether or not you've ever needed to go to a health care clinic for family planning services yourself — or particularly for abortion services — you almost definitely know someone who has. A lot of people use contraceptives to prevent pregnancy, and a lot of moms use it to manage the size of their families.
And a lot of people rely specifically on Planned Parenthood in rural communities for their sexual health and family planning care. If the organization is forced to give up the federal funding it receives to help low-income women, that would be a horrifying blow to women all over the country.
That's why these funding cuts could seriously hurt so many women and moms. The funds aren't being eliminated entirely, but they would be severely curtailed by these new rules. Access to family planning and prenatal care services would almost surely drop. Access to affordable birth control and assistance to pay for it would be limited further, which is bad news for women, moms, and families. And yes, access to abortion, which is health care that millions of women need, would be further restricted thanks to these funding cuts and health care facility restrictions.
These restrictions will only serve to hurt clinics and the women they serve. In particular, clinics in rural and conservative areas could be especially affected. If you're concerned with how this might impact women and families in your area, find your local Planned Parenthood facility here, and see how you can donate to the organization or otherwise assist with access to women's health care where you live.