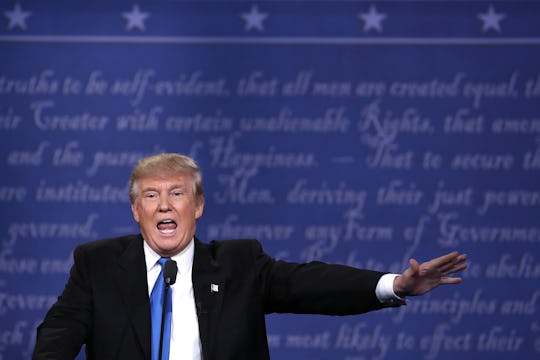 Win McNamee/Getty Images News/Getty Images
Trump's Poll Numbers After The Presidential Debate Depend On Who You Ask
Post-debate polls are generally geared toward those who actually watched the debate, but since they are conducted online by major news outlets it's fairly easy for anyone to participate. Almost every major media outlet ran a poll after Monday night's debate — either on their website or on Twitter. Wondering how each candidate did? Donald Trump's poll numbers after the presidential debate depend on who you ask. Some viewers felt that he won the debate hands down, while others see his opponent, Hillary Clinton, as having a clear victory.
How do these polls work, exactly? If they do work? It's pretty simple: a website, usually a media site like Time or CNN, puts a poll on its homepage, embedded into a story about the debate or uses Twitter's polling function to conduct one on social media. A user — whether they were a viewer of the debate or not — can vote for Trump or Clinton with the click of a button. Basically, these polls aren't exactly scientific. But in the aftermath of a major event, like the first presidential debate of election season, they can give us some limited insight into how voters are feeling about the candidates.
Political polling is a kind of public polling, a survey technique that's often used by social scientists to get a sense of how a group of people are reacting to an event in its immediate aftermath. What that means is these polls look at short-term opinion and aren't necessarily meant to project long-term outcomes.
Trump and Clinton have generally been polling close together, and many predicted that the outcome of Monday night's debate would see a surge in the stronger candidate's polling numbers. Time's poll, which has 1,511,488 votes as of Monday morning, shows Trump taking a 54 percent lead over Clinton, who is at 46 percent.
But CNN's poll, which was conducted by telephone and included 521 registered voters, showed Clinton dominating with 62 percent, Trump lingering at just 27 percent. CNN's poll noted that 41 percent of respondents identified as Democrats, which made some Trump supporters wonder if the poll was rigged to favor Clinton. Trump himself responded directly to CNN's poll with this tweet:
And then followed up with:
He also tweeted out screencaps of the debate polls from CNBC, The Drudge Report, Variety, Brietbart, The Hill and others, all showing him taking the lead.
Fact Check?
So far, Trump is taking the lead on the CNBC poll, which sees Trump at 67 percent to Clinton's 33 percent. Over at The Drudge Report, whose poll has 625, 554 votes as of Monday morning with Trump taking the lead at 82 percent, Clinton coming in at 17 percent.
Variety's poll, with 64,645 votes as of Monday morning, shows Trump leading at 57 percent with Clinton coming in at 42 percent. Brietbart's poll, which, to be fair, may inherently lean toward Trump supporters, has a total of 261,007 votes as of Monday morning and shows Trump taking a 75 percent lead over Clinton's 24 percent. The Hill, whose poll has a total of 127,754 votes as of Monday morning, also gave viewers the option to state that neither candidate won the debate: even still, Trump is leading at 58 percent, Clinton at 36 percent and 6 percent voted that it was a draw.
What's important to remember is that these polls are vulnerable to various biases, have vastly different sample sizes (Time's poll had over a million respondents whereas The Hill's had just over 125,000) and that they were conducted in different ways. Some were conducted entirely online, others we done by phone. It's also worth noting that the polls for each media outlet, both in response size and their outcomes, reflect the demographic of voters that is likely to read and respond to that particular media outlet. Some outlets, such as Fox News, are associated with right-wing politics, while other sites, like NPR, are seen as being more liberal.
Political polling is just one of many tools that the media can use to gauge the response of the nation during an election year, but their results should be taken with a grain of salt. Unless there is a single, uniform, and unbiased method for polling (and one that doesn't allow viewers to vote multiple times, which is nearly impossible to prevent on the internet), one always has to consider that the numbers may not be quite what they seem.