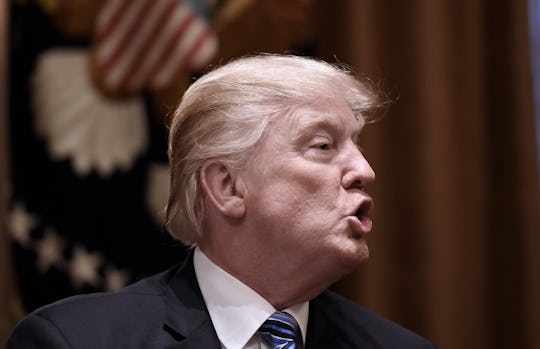 Pool/Getty Images News/Getty Images
Why Trump's Offer To Help A Sick Baby Is Hypocritical
On Monday, President Donald Trump offered to help a baby named Charlie Gard. Charlie is an 11-month-old British boy whose rare genetic disease is, sadly, terminal. The baby's doctors in London want to remove him from the life support that's keeping him alive to prevent further suffering; his parents want to take him to the United States for an experimental treatment instead. After the parents, Chris Gard and Connie Yates, hit a roadblock that's more than likely to mean that their beloved son is in his final days, Trump tweeted that he would be "delighted" to help. It seems like a good faith gesture in the midst of a morally complex and heartbreaking situation, but Trump's position on Charlie Gard is hypocritical for a striking reason.
After a legal battle that traveled all the way to the Supreme Court of the United Kingdom, the European Court of Human Rights ultimately ruled in favor of the doctors that little Charlie should be removed from his life support, CNN reported. The treatment in the United States, they had argued, would do little to assuage the devastating effects of his mitochondrial DNA depletion syndrome, which include progressive muscle weakness, organ dysfunction, and brain damage. Still, Donald Trump — as well as Pope Francis — spoke out in support with the boy's parents. If we can help little #CharlieGard, as per our friends in the U.K. and the Pope, we would be delighted to do so," Trump tweeted.
It's hard to argue with a powerful world leader vowing to use his position of influence to potentially improve the wellbeing of a very vulnerable person: a terminally ill baby. But when that powerful world leader is Donald Trump, the offer to help this particular baby — albeit in no specified way — reeks of hypocrisy. That's because so many of Donald Trump's policies and proposed policies have the ability to threaten the health,and chances of survival of so many other kids who need treatment in the United States.
Take, for example, the fact of the Trump administration's tough, unforgiving stance on deporting immigrants living in the United States illegally — even those who have no criminal records. The uptick in arrests of such U.S. residents has parents of children with serious health conditions terrified.
The Atlantic recently reported on the case of Mexico natives Rafael and Sonia, who now live in a Santa Cruz trailer park with their two daughters. Their older daughter is 8-year-old Abril, a U.S. citizen whose cerebral palsy and epilepsy has prevented her from walking or speaking her whole life. Trump's rhetoric about deportation has her parents, whose last names weren't published because of deportation fears, worrying about the possibility that they could be sent back to Mexico: Who would take care of Abril? Would anyone in the United States be willing to learn all about the children's specific needs?
After all, the girl isn't even able to clear her own throat, meaning that at least one of her parents is always with her, using a machine to suction saliva and phlegm and reading her cues to determine whether she requires medical treatment at any given moment. And Sonia told The Atlantic that she doesn't believe her daughter would survive long in Mexico if had no choice but to go there with her parents: Her seizure medications alone cost $5,000 every month, an expense that Medi-Cal and California Children's Services covers, along with that of her equipment. Such assistance simply would not be available across the border.
The mother of an 18-year-old with epilepsy and cerebral palsy was already deported under Trump, despite her being his sole caretaker, so Sonia and Rafael's fears — which so many parents in similar situations share — are certainly not unfounded.
Equally troubling is the fact that Trump has worked to instate bans on people from several Muslim-majority countries from entering the United States. When his administration enacted the first iteration of the ban back in January, the move would have severely disrupted or even cancelled the care of patients had it not been almost immediately blocked in court. In fact, a successful implementation of the ban at the time would have blocked nine Cleveland Clinic patients and 11 seeking treatment from Johns Hopkins from entering the country, according to The Guardian. "These are very, very ill patients," Johns Hopkins Medicine International president Pamela Paulk told STAT News at the time. "In most cases, these are not cases to be postponed."
Still, the Trump dream of a travel plan has not died, and is now in effect in an altered form.
Given Trump's dedication to disregarding the medical needs of children and others in his quest to limit the influx of immigrants and refugees to the United States, how is one to interpret his vow to assist in little Charlie's care? How does it square with the Republican's proposed health care bill, which would slash Medicaid funding so severely that so many U.S. kids with special needs would no longer had access to the aid they require?
Offering to help a child like Charlie is certainly commendable. Prioritizing his life over so many others certainly is not.