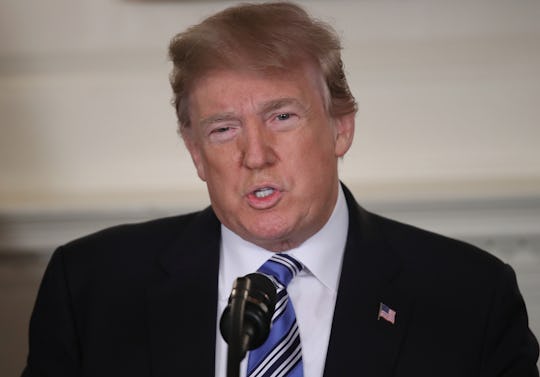 Win McNamee/Getty Images News/Getty Images
Trump Wants To Bring Back Abstinence-Only Sex Ed, & *All* Research Shows That's A Terrible Idea
Trump's proposed federal education budget has hit the internet, and while it's yet to be approved by Congress, there are many notable proposals in the lengthy document. However, one sentence in particular is causing an uproar on the internet — and for good reason. According to the proposal, Trump wants to reinstate abstinence-only sex education.
The budget proposal can be found on the White House's website, and on page 126, there is a call to "Reauthorize and modify Abstinence Education and the Personal Responsibility Education Program." As noted by the Atlantic, Trump is asking for $75 million for the Health and Human Services Department to fund those programs in particular. The outlet adds that this probably has something to do with Trump's June 2017 appointment of Valerie Huber, a longtime advocate of abstinence-only education.
Abstinence-only sex education has been widely denounced, especially in recent years. Basically, while abstaining from sex is effective in preventing unwanted pregnancies and sexually transmitted diseases, teaching adolescents to abstain from sex as opposed to teaching them how to have safe sex is often ineffective, as explained in a 2017 study published in the Journal of Adolescent Health. And in a 2007 study conducted by University of Washington, researchers found that adolescents (aged 15-19) who were given "comprehensive sex education" had a lower chance of getting pregnant than those who received abstinence-only sex education or no sex education. And according to 2005 data cited by PLOS ONE, abstinence-only education and higher teenage pregnancy and birth rates are actually positively correlated with one another.
Trump's proposal that the entire country's education system revert back to abstinence-only sex education is a regressive ideology that is not prioritizing the health of the nation's adolescents.
Many took to Twitter to share their grievances (and pointed criticisms) about the proposal.
The abstinence-only program the proposal specifically refers to is the Personal Responsibility Education Program. As described by Advocates for Youth, the program is:
The first federal funding stream for programs that teach about abstinence and contraception for the prevention of pregnancy and sexually transmitted infections.
The program was actually first introduced as part of the Affordable Care Act, aka Obamacare, by Congress back in 2010. Despite Congress' introduction of that program, Obama worked to overturn Bush's abstinence-only sex education policy. That same year, the Obama administration awarded funding for programs to prevent teen pregnancy, according to People's World. And in February 2016, Obama stripped the federal budget of all abstinence-only sex education, according to Teen Vogue. The Department of Health and Human Services was previously receiving $10 million a year to fund abstinence-only programs.
Not to mention, the Trump administration recently overturned grant funding for a Planned Parenthood-sponsored sex education program. This followed the Department of Health and Human Services' decision to cancel a Teen Pregnancy Prevention Program, according to NPR. This week, a local chapter of Planned Parenthood banded together with several other groups to sue the Department of Health and Human Services for canceling their grants.
Many combed through the proposal only to discover several other controversial Trump ideas. Notably, his proposal suggests cutting grants that allow gun dealers to check if someone is allowed to buy a gun before actually selling it to them. The Huffington posts explained, Trump wants to cut funding from two programs (the National Criminal Records History Improvement Program and the NICS Act Record Improvement Program), both of which provide grants to the National Instant Criminal Background Check System, which is how gun dealers run background checks on customers.
The proposal still has to go through Congress, however, so there's a chance that Trump's ideas may not be approved.
Check out Romper's new video series, Bearing The Motherload, where disagreeing parents from different sides of an issue sit down with a mediator and talk about how to support (and not judge) each other's parenting perspectives. New episodes air Mondays on Facebook.