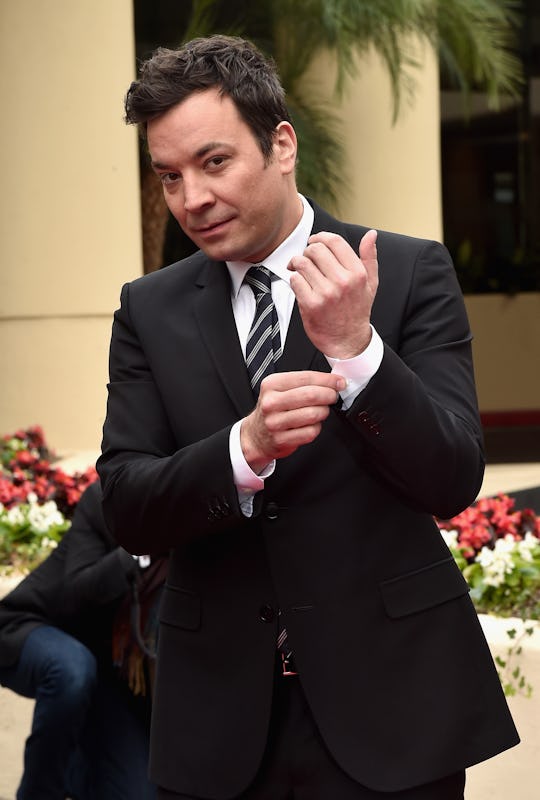 Alberto E. Rodriguez/Getty
Trump Is Bound To Respond To Fallon's Globe Jokes
At the 2017 Golden Globes, Jimmy Fallon began his monologue (once the teleprompter was back in working order), and it was clear right from the start that he was going heavy on the Donald Trump jokes. But as much as our president-elect likes to be the center of attention, I have a feeling he won't be too pleased. Trump's reaction to Jimmy Fallon's Golden Globes monologue will surely be a classic Trump response for the history books.
Fallon opened his monologue by inviting us all to celebrate one of the few places left in America where we actually honor the popular vote, the first zing in a slew of them poking mostly fun at the notoriously thin-skinned Donald Trump, who tends to react poorly whenever anyone mocks him for literally anything at all. The joke is an obvious reference to the fact that, though he won the presidency, Trump actually lost the popular vote in the election by nearly 3 million votes. Fallon went on to joke that, while people may have wondered what would have happened on Game of Thrones had King Joffrey lived, we're going to find out in 12 days. That would be Jan. 20, the inauguration of Trump as president of the United States.
As of this moment, Trump has not tweeted a reaction to Fallon's Golden Globes monologue. Perhaps he hasn't been watching, or perhaps one of his aides has hidden his phone or maybe changed his Twitter password. (Here's hoping!) But never fear, Trump is never far from his social media account, and an enraged response is surely forthcoming. If I was to hazard a guess as to what Trump will post, I'd say it will be something along the lines of, "I heard that the very overrated Jimmy Fallon made some very unfunny jokes about me at the Golden Globes. Sad!" But don't quote me, as once again, there has been no official response.
Trump has tweeted his thoughts on everything from his Vice President Mike Pence being called out on stage by the cast at a production of Hamilton to Alec Baldwin's impressions of him on Saturday Night Live. To the Saturday Night Live impressions, Trump tweeted, "Just tried watching Saturday Night Live - unwatchable! Totally biased, not funny and the Baldwin impersonation just can't get any worse. Sad."
This response is just such a childhood, playground-type of response, I honestly can't believe that someone allowed him to type it out and post it. So obviously, I will be constantly refreshing his Twitter feed until he posts his thoughts about those Golden Globes jokes. Stay tuned!