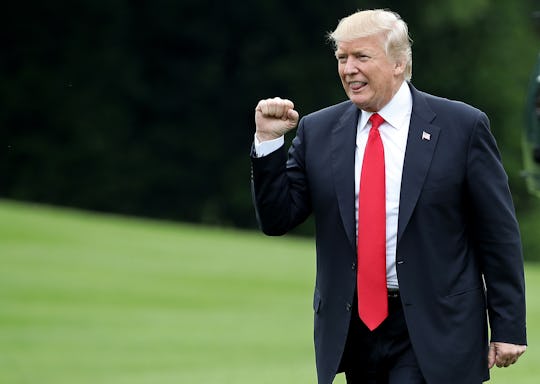 Win McNamee/Getty Images News/Getty Images
Trump's Response To Comey's Hearing Was... Interesting
On Thursday, former FBI Director James Comey testified in front of the Senate Intelligence Committee, and perhaps unsurprisingly, it was pretty damning. Claiming under oath that he ultimately lost his job because of the FBI's investigation into Russian interference in the 2016 U.S. election, Comey also said that President Donald Trump had once asked him for "loyalty," and that he'd pressured him to pull back on the FBI's investigation into former National Security Adviser Michael Flynn. But instead of defending himself against the claims, Trump's response to James Comey's hearing focused on something else entirely. In a statement released by his lawyer — as well as in an early morning tweet Friday morning — Trump claimed that the hearing was "total and complete vindication," according to CNN. And honestly, it kind of makes you wonder if he was watching the footage as everybody else.
Trump was uncharacteristically quiet on social media both during and after the hearing, but his lawyer, Marc Kasowitz, responded on the president's behalf Thursday, and made it sound like Comey's testimony had actually been a win for Trump. According to Business Insider, Kasowitz said that the president was "pleased that Mr. Comey has finally publicly confirmed his private reports that the president was not under investigation in any Russian probe," echoing Trump's previous claims that he was not personally being investigated by the FBI. Kasowitz also said that Trump "feels completely and totally vindicated," and "is eager to continue to move forward with his agenda."
Another major sticking point for the president? The fact that Comey had admitted during the hearing that he had, in fact, indirectly leaked a memo about his meeting with Trump to The New York Times, according to The Huffington Post. In his Friday morning tweet, the president wrote, "Despite so many false statements and lies, total and complete vindication...and WOW, Comey is a leaker!" His lawyer, also took the opportunity to suggest that Comey had broken the law. Kasowitz said,
It is overwhelmingly clear that there have been and continue to be those in government who are actively attempting to undermine this administration with selective and illegal leaks of classified information and privileged communications. Mr. Comey has now admitted that he is one of the leakers ... We will leave it the appropriate authorities to determine whether this leaks should be investigated.
Trump might be pleased by Comey's admission, but it still doesn't bode particularly well for the POTUS. For one, though Comey owned up to the leak, he also said that the reason he did it was because he hoped it would prompt the Department of Justice to appoint a special counsel in its investigation of collusion between Russia and the Trump campaign. Furthermore, Stanford law professor Robert Weisberg told The Huffington Post that despite what Trump's camp might think, Comey didn't actually break the law. He said,
There is no such 'crime' as a leak. There's a violation of the Espionage Act if you disclose security related classified information. Trump's lawyer mumbled something about privilege. Even if executive privilege applied, that only refers to admissibility in court or susceptibility to a subpoena―it doesn't make disclosure of privileged information a crime.
Comey's testimony has been a major focus on social media, where many have since called for Trump to also testify under oath about the election, the FBI's investigation, and Comey's dismissal:
Others were outraged at Trump's suggestion that Comey lied during his testimony, since that is actually a very serious offense:
But Trump certainly wasn't the only one making accusations of lying. In the hearing, Comey testified that he'd actually opted to specifically document each meet he'd had with the president, because he thought he might lie about it later on. According to The Guardian, Comey said,
I was honestly concerned that he might lie about the nature of our meeting, and so I thought it really important to document.
He also told the committee that the White House "chose to defame [him], and more importantly the FBI" after saying that the bureau was "poorly led," according to BBC News, and that as far as he was concerned, "those were lies, plain and simple."
Comey's testimony was no doubt a big deal, and will likely have a significant impact on the continuing debate over the Trump administration's ties to Russia. For now though, the president certainly seems to be taking the approach that it was Comey, not him, who came out looking bad as a result of the hearing, and he may or may not believe that that's actually true. But while he might be claiming vindication, it's clear that, to many Americans, there are still an awful lot of questions that the president needs to answer — preferably under oath, instead of on social media.