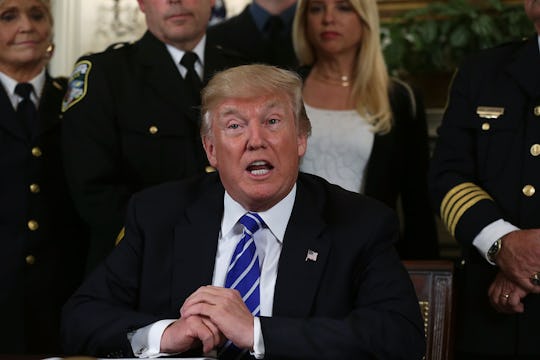 Alex Wong/Getty Images News/Getty Images
Trump's Response To The London Bridge Attack
Authorities in London on Saturday responded to reports of a white van plowing over crowds of pedestrians on London Bridge in England, gunfire at surrounding locations, and at least two stabbings in a nearby restaurant. Police did not release details regarding the suspected attack, but reporters at the scene reported at least one man in custody. President Trump's immediate response to the suspected London Bridge attack echoed previous statements following similar attacks.
UPDATE: The London Bridge attack has since been declared a terrorist incident, according to the Associated Press. London Metropolitan Police Commissioner Cressida Dick on Sunday confirmed that the death toll in the London Bridge attack had been raised to seven, not including three of the attackers, with at least 48 others injured. Dick added that the remaining injured had been transported "to five hospitals across London." Some were in critical condition. The three attackers "were fatally shot by officers within eight minutes of the first emergency call," according to The Washington Post. An additional 12 people have also been arrested in connection with the attack.
The nearby Vauxhall stabbing was later declared not to be part of the London Bridge attack, but a separate incident.
EARLIER: A White House spokesperson stated late on Saturday that the president had been briefed on the matter. "National security team has briefed @POTUS on situation at #LondonBridge and will continue to provide updates," Press Secretary Sean Spicer tweeted.
A short time later, the president responded to the attack on his personal Twitter account, writing angrily (and, as some pointed out, incorrectly, as no details about the suspect were immediately released),
We need to be smart, vigilant and tough. We need the courts to give us back our rights. We need the Travel Ban as an extra level of safety!
The verbiage was not unsimilar to Trump's other antagonistic responses.
Following an attack on Christians in Egypt in late May, Trump also utilitzed the moment to push his views on foreign policy, which was met with equal consternation. He tweeted at the time,
Terrorists are engaged in a war against civilization- it is up to all who value life to confront & defeat this evil.
In a follow-up statement, Trump wrote,
America also makes clear to its friends, allies, and partners that the treasured and historic Christian Communities of the Middle East must be defended and protected. The bloodletting of Christians must end, and all who aid their killers must be punished.
America stands with President Al Sisi and all the Egyptian people today, and always, as we fight to defeat this common enemy.
Perhaps the seemingly selective statement would have been better accepted, had Trump not failed to respond a short time later to a stabbing attack in Portland by an alleged white supremacist. Though the president eventually spoke out against the "violent" attack, calling it "unacceptable" and hateful, it was his delay in issuing a statement that left many frustrated.
Seemingly hoping to avoid a similar debacle this time around, Trump followed up his initial tweet regarding the London Bridge attack by pushing a follow-up tweet from his personal account, which was later retweeted by the official @POTUS account.
"Whatever the United States can do to help out in London and the U. K., we will be there," Trump wrote. "WE ARE WITH YOU. GOD BLESS!"
Despite the follow-up, many were upset that the president chose to first push his travel ban ahead of any formal condolences.