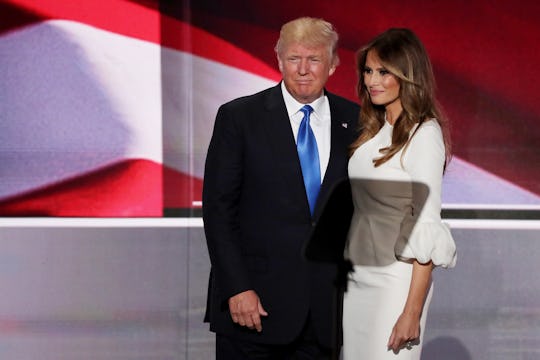 Alex Wong/Getty Images News/Getty Images
Trump's Response To Melania's Plagiarism Scandal Confirms His Misguided Campaign Strategy
Melania Trump's speech from the first night of the Republican National Convention in Cleveland, Ohio, Monday made headlines around the world — but not exactly for the reason she likely hoped. After it appeared that portions of her speech had been lifted from a separate speech First Lady Michelle Obama had given in 2008, many were astounded that an oversight as big as blatant plagiarism would have been able to occur during such an important event. After the fact, the Trump campaign offered up a number of explanations, but it is Republican presidential candidate Donald Trump's response to Melania's plagiarism scandal that seems to be most poignant.
According to The New York Times, those behind the scenes describe a disorganized and rather unprofessional situation where Melania's speech was originally written for her by two top speechwriters, but she then reportedly opted to do away with their version and make the speech her own. Honorable, in theory, but along the way that somehow turned into incorporating parts of Obama's speech, word-for-word, into her own.
Matt Latimer, a speechwriter for former president George W. Bush told The New York Times, the error "just shouldn't have happened. This was an easy home run speech: a successful, attractive immigrant talking about her husband."
And yet, Donald Trump, for one, doesn't appear to at all phased by the failed speech, or the backlash it created. In a tweet Wednesday, he described all the publicity Melania's speech received to be "good news," and then attacked the media for all the time it was spending writing about it.
In a statement released shortly after his tweets, Trump staffer Meredith McIver took responsibility for the plagiarized speech, explaining that she worked with Melania on the revised copy, and that Melania had shared Obama's speech with her as an example of the types of messages she admired and wanted to share. McIver claims she then inadvertently included parts of the speech without checking or attributing, and that, when she offered to resign, Donald and Melania rejected it, telling her that "people make innocent mistakes, and that we learn and grow from these experiences."
That answer is likely to come as a surprise to speechwriters like Latimer, however. He told The New York Times that "The most cardinal rule of any speech-writing operation is that you cannot plagiarize. [You'll] lose your job."
For now, it appears that McIver still has her job, but the implications of her error are huge. More than even being just a mistake involving a plagiarized speech (which, in itself is pretty massive), McIver's gaffe shone an even bigger spotlight on the many ways in which critics have long argued that the Trump campaign is misguided and unprofessional.
According to The Washington Post, the Trump campaign doesn't particularly resemble a presidential campaign very much at all. Trump generally seems to prefer eschewing running a campaign with lots of staff, lots of fundraising, and lots of formal interviews and advertisements, in favor of tweeting, and giving speeches that often seem totally off-the-cuff. And his supporters usually eat it up, admiring his unorthodox, politically incorrect, anti-establishment style as a sign that he's really for the people.
His latest tweet, of course, is the perfect example of unorthodox political strategy. While many politicians in his position would be cringing, explaining, and maybe apologizing, Trump is telling his supporters that, hey, publicity is good, it's fine. And no doubt it has worked for him in the past: despite seemingly making one outrageous, offensive comment after another on the campaign trail, he won the party nomination without a whole lot of earnest competition.
And that, it seems, is what makes the Trump campaign a particularly concerning head-scratcher. Not only does it seem to not actually bother his supporters all that much when he hurls insults, or lies, or spins something in an almost-inexplicable kind of way, they actually seem to like it. What look like liabilities to the political world, and to critics of Trump, can instead appear to be assets to Trump-loving Republicans, who see his words and actions as further proof that he's a savvy, self-promoting business man who will "make American great again" without really ever disclosing exactly how. In the eyes of many Trump supporters, the end absolutely justifies the often-absurd means, even though no one — including Trump himself — seems to be able to explain what the end is going to look like.
But, of course, there is one thing that Americans can certainly count on in November if the GOP takes the White House: Donald Trump will have emerged victorious. And it wouldn't be particularly surprising if that fact, in and of itself, was really his only end-goal all along.