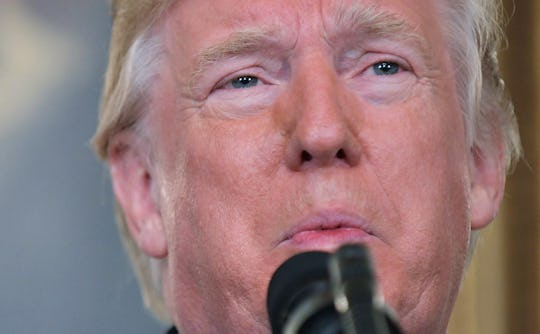 MANDEL NGAN/AFP/Getty Images
Trump's Response To Sandy Hook Shows He Once Supported Common Sense Gun Safety
On Sunday, a gunman ambushed a Las Vegas country music festival, ultimately killing nearly 60 people. The grisly incident is the latest — and deadliest — in the shamefully long list of such mass shootings that plague the United States. And it has reignited the gun safety debate with a furor, with many Americans looking to their government for some kind of preventive action. With the current Republican White House and Congress, though, that seems unlikely. After all, President Donald Trump secured the endorsement of the NRA last year, and many GOP lawmakers desperately chase the organization's approval (and financial support). But Trump's response to Sandy Hook — the 2012 elementary school massacre that left 20 first-graders and six adults dead — show he even once supported gun safety efforts.
Years before a gunman armed with a pistol and an assault rifle killed 49 people in his June 2016 ambush of an Orlando gay nightclub, and well before the 64-year-old alleged perpetrator of the attack on the Route 91 Harvest music festival targeted it from a nearby high-rise hotel and subsequently killed himself, the atrocity at Sandy Hook Elementary School in Newtown, Connecticut, had people all over the country feeling gutted and outraged. And that included then-President Barack Obama, who famously cried during an address to the nation afterwards.
Around that same time, Obama also spoke at a vigil for the victims, where he delivered an especially impassioned speech calling for greater gun safety measures:
We can't tolerate this anymore. These tragedies must end. And to end them, we must change. We will be told that the causes of such violence are complex, and that is true. No single law — no set of laws can eliminate evil from the world, or prevent every senseless act of violence in our society.
... We can't accept events like this as routine. Are we really prepared to say that we're powerless in the face of such carnage, that the politics are too hard? Are we prepared to say that such violence visited on our children year after year after year is somehow the price of our freedom?
And Trump — who had never held elected office and was still a few years away from announcing his own presidential bid — did something that would one day become his hallmark: He tweeted. But instead of doing so to perpetuate the racist lie that Obama is not truly an American citizen or to criticize him for golfing, as has been his custom, the real estate mogul simply agreed with Obama.
Coming from a man who has been so openly antagonistic toward Obama both before and since Sandy Hook, it was striking:
"President Obama spoke for me and every American in his remarks in #Newtown Connecticut," Trump tweeted in response to Obama's call for stricter gun safety laws in the United States. (The ensuing Obama-led effort that included banning some military-style assault rifles and expanding background checks was later defeated in the Senate, though.)
Trump's concurrence with Obama's call for action when it came to regulating gun sales and access in the United States is striking for another reason, too: The now-president's stance seems to have changed pretty dramatically in the intervening years. He wrote in his 2000 book The America We Deserve, for example, that he supported the ban on assault weapons even while opposing gun control more generally, PolitiFact reported. But by a Republican primary debate in March, he had reversed course. "I don't support it anymore. I do not support the ban on assault [weapons]," he said then, according to Politico.
And by the time he had secured the Republican presidential nomination, Trump was a full-fledged Second Amendment zealot. According to Business Insider, he favored adjusting current gun safety legislation to ensure that it would not chip away at the right to bear arms, opposed expanding gun safety protections at all, and preferred to focus on the country's mental health treatment system as a means of controlling gun violence.
Honestly, it's hard to believe that a man with Trump's stated stances on gun safety could share any of Obama's dedication to eradicating gun violence in the United States, but it happened, and it would be great if he kept a little bit of that common sense.