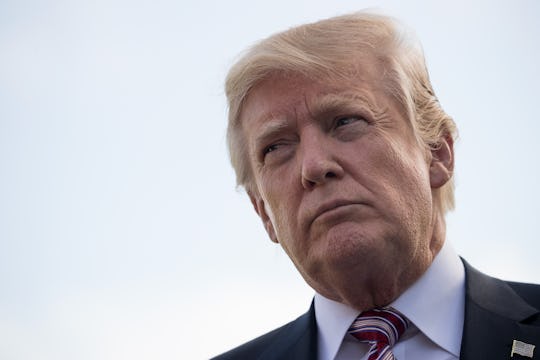 Drew Angerer/Getty Images News/Getty Images
Trump's Response To The Las Vegas Shooting Was Swift
Police are saying at least 50 people are dead and more than 200 are injured in what people are calling the deadliest shooting in United States' history on the Las Vegas strip Sunday night, according to CNN. Trump's statement on the Las Vegas shooting was swift on Monday morning, and came via Twitter as usual. Trump's response to the shooting will be critical for many people given the scale of it. There's also no doubt that he will be forced to address the lack of an assault weapons bans in Vegas, despite cries from pro-gun extremists that the event not be politicized.
On Monday morning, Trump tweeted around 7 a.m. Eastern Time, "My warmest condolences and sympathies to the victims and families of the terrible Las Vegas shooting. God bless you!" The statement was sensitive and seemed heartfelt, which will no doubt draw attention after the president's recent scandal regarding his tweets about Puerto Rico, where he said Puerto Ricans want "everything to be done for them," despite the fact that thousands of them are still without drinking water or power.
Back to the issue at hand, though, Trump's tweet about Vegas seemed sensitive and is a 180-degree turn from his usual response to mass shootings or attacks. In response to the latest terror attack on the London tube, the president responded by immediately tweeting about ISIS, therefore linking the attack to radical Islam before even authorities had. Trump often turns to blaming Islam immediately after attacks, but it doesn't appear he has done that with Vegas.
But, honestly, with more than 50 people dead, where are the tweets condemning this terror attack on U.S. soil? Why has Trump not tweeted about what is clearly an instance of terrorism, but terrorism committed by a white American. The gunman, identified as 64-year-old Stephen Paddock, from Mesquite, Nevada, reportedly shot at attendees of a country music festival from the 32nd floor of the Mandalay Bay Resort and Casino, according to NBC News. After firing for several minutes, he was reportedly shot and killed by police, according to Reuters. Eyewitness Meghan Kearney gave a graphic and terrifying depiction of the scene to NBC News (WARNING: the following information may be disturbing to some):
We heard what sounded like firecrackers going off. Then all of a sudden we heard what sounded like a machine gun. People started screaming that they were hit… When we started running out there were probably a couple hundred [people] on the ground.
People kept dropping and dropping… People were getting shot one foot away from us. People were trying to save their friends. There were gunshots everywhere. Helping them would've meant that we got shot too.
Another eyewitness said it was clear that the shooter was using a "heavy-caliber weapon," according to the New York Post, and eyewitnesses described it to NBC as a "machine gun." Still, there has been no mention by mainstream news organizations about whether the incident is being investigated as terrorism, in a shockingly obvious example of what happens when a mass shooter is white. (We actually wait for authorities to investigate to find out what his motive was.)
Clark County Sheriff Joseph Lombardo told reporters, according to Reuters, "We have no idea what his belief system was. We've located numerous firearms within the room that he occupied."
For now, people are seeking to provide comfort and support to those who have lost loved ones or those who are still trying to locate their loved ones in Las Vegas. Those who are searching for missing loved ones should call 1-866-535-5654, according to NBC News.