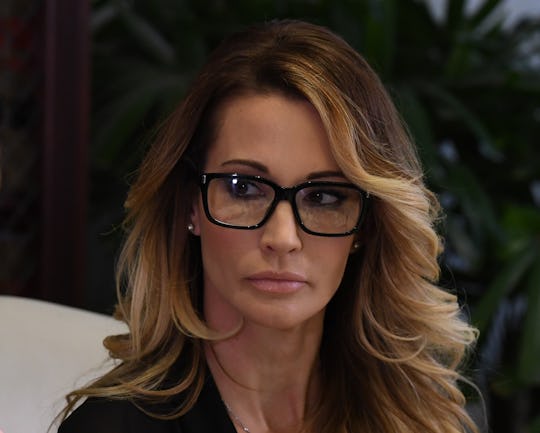 MARK RALSTON/AFP/Getty Images
Trump's Sarcastic Response To Accuser Jessica Drake Is Way Over The Line
At a rally on Monday, Republican candidate Donald Trump addressed the latest accusation of alleged sexual assault made against him in the most sarcastic and offensive way possible. Trump's response to accuser Jessica Drake — an adult film performer who came forward over the weekend, accusing Trump of previous unwanted sexual advances — was over line, with the mogul joking during his appearance on WGIR radio's New Hampshire Today, "Oh, I'm sure she's never been grabbed before." Romper reached out to the Trump campaign for comment regarding the remarks, but did not immediately hear back.
Trump has vehemently denied all 11 of the current sexual assault allegations made against him, including Drake's. According to CNN, at a news conference in Los Angeles over the weekend Drake alleged that the GOP nominee touched and kissed her inappropriately during a charity golf tournament in Lake Tahoe, Nevada in 2006.
"These are stories that are made up, these are total fiction. You'll find out that, in the years to come, these women that stood up, it was all fiction," Trump told WGIR radio's New Hampshire Today on Monday. "They were made up. I don't know these women, it's not my thing to do what they say. You know I don't do that. I don't grab them, as they say, on the arm."
Trump continued, "One said, 'he grabbed me on the arm.' And she's a porn star. You know, this one that came out recently, 'he grabbed me and he grabbed me on the arm.' Oh, I'm sure she's never been grabbed before."
Drake said that she, along with two other women, joined Trump in his suite the night they met, but left after about 30 to 45 minutes because she felt uncomfortable.
"He grabbed each of us tightly, in a hug and kissed each one of us without asking permission," Drake said at a news conference on Saturday.
Drake then claimed she received a call from Trump and one of his representatives, allegedly inviting her go out to dinner or to attend a party with him, both of which she declined. After not accepting his invitations, she said Trump then offered her $10,000 and the use of his private jet if she returned to his hotel room.
Casting the source of the allegation as a political move by the Clinton campaign, Trump's campaign team addressed the accusation made against the Republican candidate in a statement on Saturday:
This story is totally false and ridiculous. The picture is one of thousands taken out of respect for people asking to have their picture taken with Mr. Trump. Mr. Trump does not know this person, does not remember this person and would have no interest in ever knowing her. This is just another attempt by the Clinton campaign to defame a candidate who just today is number one in three different polls. Anyone who would pay thugs to incite violence at a rally against American citizens, as was released on video, will stop at nothing. Just another example of the Clinton campaign trying to rig the election.
Trump said on Monday in the same radio interview that all of the accusation made against him recently are "all lies."
"It's all lies, it's all lies, it was made up," Trump said. "It's like dripping water. (You can listen to the full interview here.)
Since the release of the now notorious 2005 Access Hollywood tape, in which Trump can be hear on a hot mic reportedly bragging to then-host Billy Bush about grabbing women "by the pussy," multiple women have come forward claiming that over many years Trump had inappropriately groped or kissed them without permission. Trump has denied all of these accusations.
However, Trump's latest response to Drake's allegation is way over the line because it is littered with sarcastic and misogynistic tones, painting his accuser as a blatant liar while simultaneously insinuating that because of her status as an adult film actor, she had indeed been "grabbed" before. More importantly, it was a blatant reminder just how much is at stake for all women — no matter their profession or background.