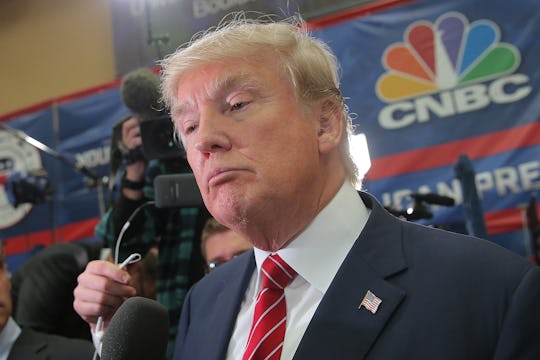 Trump's 'SNL' Tweeting Sketch Was A Creative Way Around The Equal Time Rule
The equal time rule. That one thing that every politician has to follow and the one thing Donald Trump has creatively worked his way around, thanks to his tweeting sketch on Saturday Night Live. 
If you're not aware, the equal time rule specifies that, "U.S. radio and television broadcast stations must provide an equivalent opportunity to any opposing political candidates who request it." Earlier in the week, Entertainment Weekly posed an interesting question, wondering if NBC would allow Trump's republican rivals the ability to go on air. After tonight's SNL broadcast, EW notes that "Trump's opponents have seven days to ask NBC affiliates for equal opportunity." That means, however long Trump is on air tonight, they'll have the chance to enjoy the same amount of television time. 
But then Trump pulled a fast one, essentially circumventing all that technical, political mumbo jumbo. Go figure. 
By "live tweeting" his own SNL appearance, he secured air time without actually appearing on air. Clever. Very clever. In fact, it's so clever, one has to wonder which clever PR woman or campaign manager came up with it. 
And if finding — and successfully exploiting — a political loophole wasn't enough, Trump managed to do it in the most racist way possible: he made fun of Keenan Thompson and his name, implying that he is from Kenya and not the United States. 
Yes, we were all waiting for a punchline too. 
And apparently, so was the audience. The awkwardness was palpable, as people seemed unsure of how to respond to the entire skit. Possibly because it wasn't funny, probably because people are still trying to figure out why Donald Trump is hosting in the first place, but definitely because Trump has been known to tweet out some pretty heinous sh*t from his twitter account and, well, bringing more attention to his twitter handle just seems unnecessary.
So even if the implications of this clever maneuver, or the equal time rule itself, went unnoticed, the unfunny joke definitely didn't. 
Images: Andrew Burton/Getty Images; NBC Universal