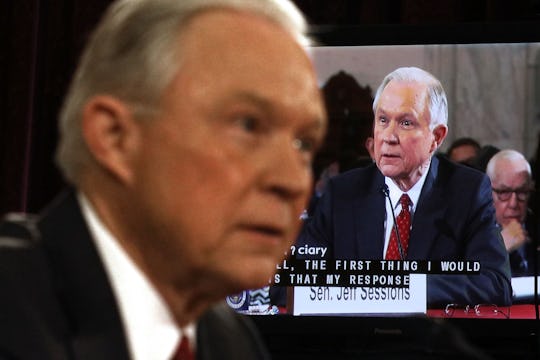 Chip Somodevilla/Getty Images News/Getty Images
Trump's Frederick Douglass Remark Isn't The Issue
On Thursday, President Donald Trump held a listening session with a small group of African American aides and supporters to mark the beginning of Black History Month. It should have been an easy speech and simple photo opp of Trump with some — well, maybe all — of the black voters who helped him into office. Instead, Trump went off on a flailing rant that placed historic figure Frederick Douglass in the present tense. White House Press Secretary Sean Spicer tried to clarify Trump's comments in a briefing to reporters that afternoon, but he only seemed to double down on his boss's lack of education on the subject. But, while Trump's and Spicer's comments about Frederick Douglass were an insult to Douglass's significant legacy, they signal something that should be far more troubling to the black community.
So, what exactly did Trump say? According to The Washington Post, Trump's convoluted speech managed to minimize Frederick Douglass and make it sound like Douglass is alive today, ready to make some vague "contribution" to the black community.
"Frederick Douglass," Trump said, "is an example of somebody who's done an amazing job and is being recognized more and more."
During his press briefing, Spicer made matters worse by telling reporters that he thought Trump "wants to highlight the contributions that [Douglass] has made. And I think through a lot of the actions and statements that he's going to make, I think the contributions of Frederick Douglass will become more and more."
For those who don't have a high school history text handy, Frederick Douglass was an escaped slave who went on to become a prominent abolitionist, outspoken suffragist, and a the first African American nominated for the vice presidency. And he died in 1895. Honestly, they could've gotten better talking points from one of Barron Trump's text books.
On the upside, Trump's and Spicer's bizarre statements propelled Douglass to the top of Twitter's trending topics list on the first day of Black History Month. So, that's something.
But, there's a bigger concern here. While Trump was in the White House pretending to listen to African Americans, the Senate Judiciary Committee was nominating Alabama Sen. Jeff Sessions to Trump's cabinet as attorney general.
With Sessions at the head of the Justice Department, many fear that the country will move backwards when it comes to issues like police brutality, voting rights, protecting Muslim communities, and standing for civil rights for the LGBTQIA+ community. And they're right to be afraid. The Alabama Republican has an alarming history when it comes to civil rights issues. According to the Washington Post, Sessions has opposed every immigration bill that would create a path to citizenship for those here who are undocumented. And while he has stated a commitment to protecting voting rights, civil rights groups warn that Sessions' "record of hostility" toward the Voting Rights Act would only fuel Trump's unfounded claims of widespread election fraud. Not to mention, Sessions actually argued in court against civil rights and was rejected in 1986 for a federal judgeship for his racist statements.
That President Trump shows no interest in getting the most basic facts about black history right doesn't alarm me. That level of disrespect has become par for the course in Trump's presidency. But it is telling. If Trump can't be bothered to know history, how likely is he to know the personal histories of the hundreds of black men and women killed by police officers last year?
Trump may parade African American celebrities through Trump Tower, but in choosing Sessions to oversee the Justice Department, his real message to the black community is that our lives really don't matter. Trump's ineptitude would be funny, if my life and freedoms weren't at stake.