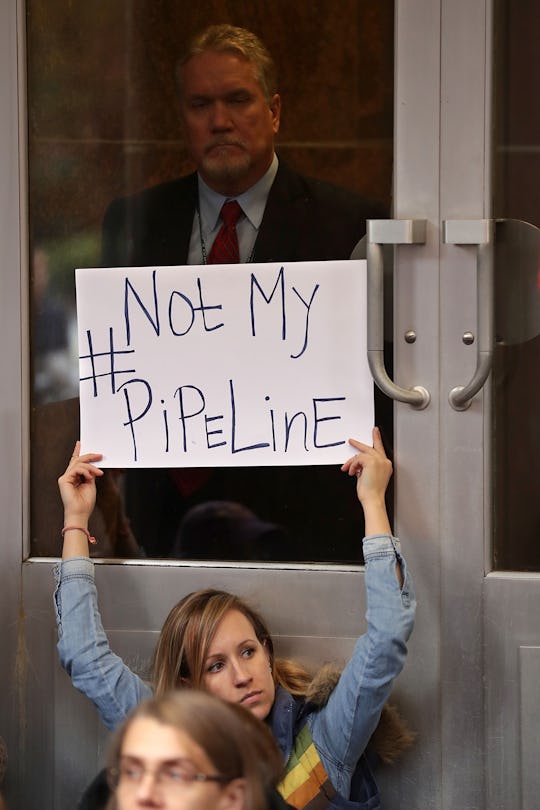 Chip Somodevilla/Getty Images News/Getty Images
Trump's Stance On Standing Rock Doesn't Exist Because Of His Conflicts Of Interest
As the year draws to a close, protests in Standing Rock, North Dakota, continue. The future of the land under threat by the Dakota Access Pipeline hangs in the balance now that Donald Trump has been elected president. While the president-elect has had plenty to say on some topics, he's remained silent about the pipeline. Donald Trump's stance on Standing Rock doesn't exist, because of his conflicts on interests. Specifically, it's one of his major investments. Trump's representatives haven't responded to requests for comment regarding whether he will cut ties with the pipeline since he could oversee policy pertinent to it and similar projects.
Update: Trump's transition team released a statement on Thursday saying that Trump supports construction of the Dakota Access Pipeline. The statement said his support "has nothing to do with his personal investments and everything to do with promoting policies that benefit all Americans," according to Reuters. It continued, saying "Those making such a claim are only attempting to distract from the fact that President-elect Trump has put forth serious policy proposals he plans to set in motion on Day One."
The Standing Rock Sioux Tribe has been engaged in active protest against a proposal for an oil pipeline that members fears will harm their water supply and ruin sacred areas of the land on which their reservation sits. Actions taken against protestors in order to get them to stand down have grown increasingly more violent the longer the protests have gone on: last week, law enforcement used high pressure water cannons on protestors and injured hundreds. Arrests have been made throughout, including a few fairly high profile celebrity arrests, and the tribe's land remains under constant threat as the pipeline project continues to loom. The Morton County Sheriff's Department has not responded to Romper's request for comment regarding its use of water cannons.
In addition to the direct and personal threat the pipeline poses for the tribe and its land, the Dakota Access Pipeline has also intensified discussions about the potential dangers of fracking and its impact on the environment. ‌
Despite the fact that the seasons are changing and the conditions for protestors are becoming more intense — both in terms of law enforcement and weather — they don't appear to have any intention of stepping down. So, when Trump is sworn in as president in January, the situation at Standing Rock may well be one of the first national issues he'll be expected to address.
Many have wondered why he hasn't commented on it already, but unlike his silence on other current issues, the answer here is pretty clear: Trump is an investor in Energy Transfer Partners, the company that would build the proposed pipeline. The project has been estimated at a worth of $3.8 billion, so it's not surprising that the Texas-based company isn't willing to give it up without a fight. But since Trump has owned stock in the company, the conflict of interest regarding any statement he could potentially make, or decision he could make as president, is unprecedented. ‌
According to the most recent federal disclosure forms obtained by The Associated Press, Trump's stocks in Energy Transfer Partners has gone down considerably: from an estimated $1 million last year to just somewhere between $15,000-$50,000.
Trump's spokeswoman, Hope Hicks, told The Washington Post that Trump had sold off all his shares over the summer in order to eliminate a possible conflict of interest should he be elected president. New disclosures have yet to be released, so the exact amount of Trump's remaining investment in stocks related to the pipeline is unknown.
In reference to another proposed pipeline — the Canadian Keystone XL pipeline — Trump has vowed to resurrect the project. If his intentions are successful, it may seal the fate of the Dakota Access pipeline and Standing Rock as well.