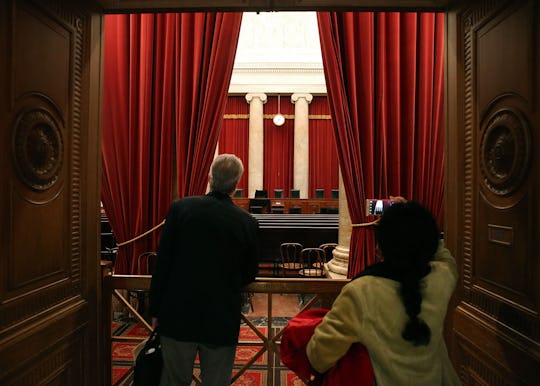 Mark Wilson/Getty Images News/Getty Images
Get To Know Trump's Supreme Court Shortlist
President Donald Trump tweeted on Monday that he will reveal his pick for the vacant seat on the Supreme Court in a primetime televised address at 8 p.m. Eastern Time on Tuesday. "I have made my decision on who I will nominate for The United States Supreme Court," he wrote succinctly, teasing the choice (reality TV hosting is a habit that dies hard, apparently). Although his decision on who might fill the seat isn't exactly clear just yet, Trump pledged throughout the presidential campaign that he would appoint a right-leaning justice to replace the late Supreme Court justice Antonin Scalia, who was a staunch conservative. So far, true to his word, it looks like Trump's Supreme Court shortlist fits the bill and the once-extensive list of 21 jurists is reportedly down to just three finalists.
Politico reported last week that Trump's pick could be one of three jurists: 10th Circuit judge Neil Gorsuch, 3rd Circuit judge Thomas Hardiman, and 11th Circuit Judge Bill Pryor. The news outlet noted that, as of last week, Gorsuch and Hardiman were emerging as the frontrunners while the likelihood of Pryor's nomination was fading (his name was excluded entirely from some news outlets' list on Monday evening).
While every potential pick has plenty of conservative credentials, there are plenty of different reasons why they've made it on the president's reported shortlist.
According to The Denver Post, Gorsuch's resume "sparkles with top-caliber schools (Columbia, Harvard and Oxford)." The 49-year-old Denver native has experience with the U.S. Department of Justice and clerkships with Supreme Justices Byron White and Anthony Kennedy. The newspaper reports that he is also known for siding with religious organizations that opposed parts of the Affordable Care Act, such as the landmark Supreme Court case Burwell v. Hobby Lobby, which ruled that the government can't force a business to provide insurance coverage for birth control if it conflicts with the business-owner's beliefs.
Hardiman's resume, however, looks a bit different than Gorsuch's. According to The Washington Post, the 51-year-old judge and father of three "was the first in his family to graduate college, did not attend an Ivy League law school and helped pay for his education by driving a taxi." He has a strongly conservative record on issues such as gun rights and the death penalty. He also reportedly has a personal connection with Trump's sister, Judge Maryanne Trump Barry.
"He has excellent credentials, not just academically but his career," Carrie Severino, chief counsel and policy director of the conservative Judicial Crisis Network, told The Washington Post. "But he's also got one of the most interesting personal stories. He worked his way up from a working-class background, he has a really strong volunteer ethic and he has done a lot of pro bono work."
Pryor, the least likely reported pick of Trump's nomination, is a federal judge on the U.S. court of Appeals for the 11th Circuit and is known for his strong stance against abortion and other conservative hot button issues. According to Heavy, the 54-year-old judge also has strong support from Jeff Sessions, the senator Trump appointed to be Attorney General.
Meanwhile Trump's team praised both Gorsuch and Hardiman in an interview with Politico last week. "[Gorsuch] is an excellent writer. He's got sharp analytical ability, strong intellect and he's got a lot of strength and courage," Leonard Leo, one of Trump's advisers on the court pick and a top official at the Federalist Society, told Politico. "Those are things that the president very much wants in a nominee."
Leo added in the same interview that Hardiman "shares many of the same qualities" and is "an extraordinarily talented and smart jurist" who has "a very direct and understandable writing style."
Nothing is official until Trump makes his announcement tomorrow night. One of these men could very well fill the vacant seat on the Supreme Court. But if this election and presidency has prepared us for anything, it's that we should all expect, or at least be prepared for the unexpected.