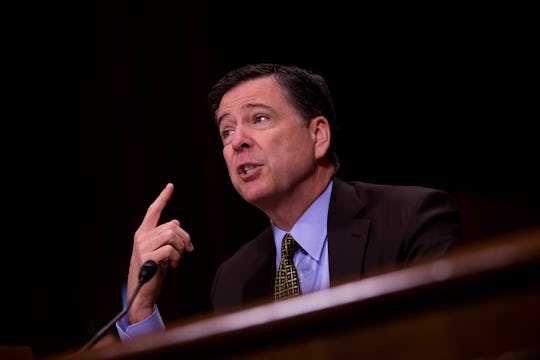 Eric Thayer/Getty Images News/Getty Images
Trump's Stark Termination Letter To James Comey
President Donald Trump fired FBI Director James Comey on Tuesday in an especially abrupt and curt manner. Trump's termination letter to Comey insisted that "it is essential that we find new leadership for the FBI that restores public trust and confidence in its vital law enforcement mission." In a Tuesday press conference, White House Press Secretary Sean Spicer stressed that Trump "accepted the recommendation of the attorney general and the deputy attorney general" in making this decision. Romper has reached out to both the White House and FBI for comment on the dismissal and is awaiting a response.
"While I greatly appreciate you informing me, on three separate occasions, that I am not under investigation," Trump explained in the letter, "I nevertheless concur with the judgement of the Department of Justice that you are not able to effectively lead the Bureau." With such a disclaimer, Trump attempted to remove Comey's investigation of alleged ties between Russia and Trump campaign officials from the equation completely; The statement appeared to try to separate the Russia allegations from Comey's firing. Trump bid adieu to the now-former director, signing off: "I wish you the best of luck in your future endeavors."
The president has been openly critical of Comey in the past. On May 2, he tweeted a two-part message about Comey, claiming that the director had helped former presidential nominee Hillary Clinton in her campaign: "FBI Director Comey was the best thing that ever happened to Hillary Clinton in that he gave her a free pass for many bad deeds! The phony Trump/Russia story was an excuse used by the Democrats as justification for losing the election. Perhaps Trump just ran a great campaign?"
But there was no direct mention of Clinton in Trump's letter, which is shown below:
Comey served as the director of the FBI starting in 2013. He was also the deputy attorney general for George W. Bush prior to that point. In addition to Comey's supervision of the ongoing investigation into Russia's influence on the 2016 presidential election, he also led the investigation into Clinton's use of a private email server — a situation which, by many estimations, cost Clinton the election.
In a statement regarding the firing, Trump shared: "The FBI is one of our nation's most cherished and respected institutions and today will mark a new beginning for our crown jewel of law enforcement." The White House's press statement on Comey's firing assures that "a search for a new permanent FBI Director will begin immediately."