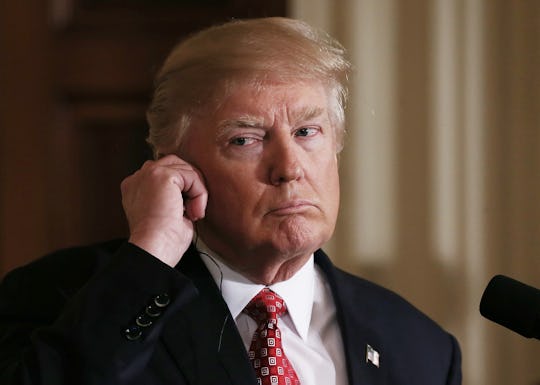 Mario Tama/Getty Images News/Getty Images
Trump's Deportation Tweet Is Entirely Misleading
President Donald Trump sent out a tweet from his personal account on Sunday morning claiming that recent deportations and his "crackdown on illegal criminals is merely the keeping of [his] campaign promise." His tweet also claimed that "gang members, drug deals, and others are being removed" from the United States. While it certainly is true that following the president's executive order, there has been a widespread "crackdown" on detaining and deporting undocumented immigrants across the country, Trump's tweet about deporting only gang members and criminals is misleading at best.
Guadalupe Garcia de Rayos is a prime example of this contrast. The 35-year-old mother living in Arizona was deported after Trump's executive order concerning undocumented immigrants went into effect. Garcia de Rayos came to America illegally as a teenager and has been living in the country peacefully for 20 years. During a workplace raid in 2008, according to CNN, Garcia de Rayos was arrested and convicted of felony criminal impersonation. It's people like Garcia de Rayos and her two American-born children who are suffering as a direct result of Trump's actions.
Garcia de Rayos does technically have a record, however, law enforcement officials were not concerned about sending her back to her community after her arrest. So far, though it's likely true that some criminals have been deported, Trump's "crackdown" is actually targeting productive members of society rather than simply the "gang members" and criminals he's tweeting about.
The Washington Post reports that U.S. immigration authorities have arrested "hundreds of undocumented immigrants in at least a half-dozen states." Some of the undocumented immigrants arrested during these raids were specifically targeted due to their serious criminal records, however, some innocent, law-abiding immigrants were arrested, as well. Trump's executive order has expanded the Department of Homeland Security's reach by allowing them to target undocumented immigrants with minor offenses or even no convictions at all.
By broadening the scope of the immigration raids by such magnitudes, the Trump administration makes it harder for themselves to focus on the "gang members and drug dealers" they claim to be deporting. According to The New York Times, the Obama administration prioritized undocumented immigrants who had been convicted of serious crimes or were considered national security risks for deportation. The Times reports that by the end of Barack Obama's presidency, around 90 percent of the United State's undocumented immigrants were not considered a priority for deportation.
If people like Guadalupe Garcia de Rayos aren't threats to our national security, why is the Trump administration prioritizing her deportation? The president claims his crackdown on "illegal criminals" is merely the keeping of a campaign promise. Somebody should point out to the president that deporting peaceful, law-abiding undocumented immigrants is nowhere close to keeping his promise.