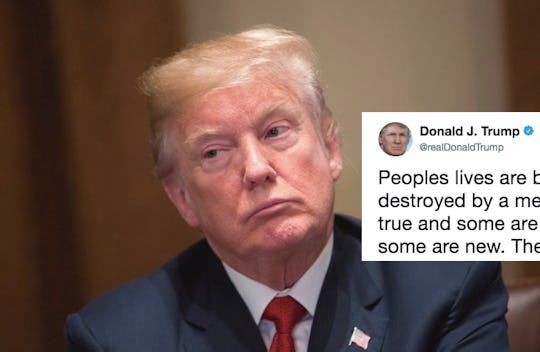 Pool/Getty Images News/Getty Images
People Are Livid Over Trump's Tweet Aimed At #MeToo, Saying "Mere" Allegations Destroy Lives
In recent months, the nation has witnessed a growing number of high-profile men in both politics and Hollywood brought down by accusations of sexual and/or domestic abuse. Fueled by the momentum of the #MeToo movement, it seems many victims have gained the confidence to call out their abusers — no matter how untouchable these men may seem as a result of their wealth or social status. In an apparent clap back to the #MeToo movement, President Donald Trump took to social media to air his concerns. And Trump's tweet about sexual assault allegations has Twitter royally pissed.
Romper has reached out to the White House for comment on the tweet, but did not immediately hear back. On Saturday, Trump tweeted, "Peoples lives are being shattered and destroyed by a mere allegation. Some are true and some are false. Some are old and some are new." The tweet continued, "There is no recovery for someone falsely accused - life and career are gone. Is there no such thing any longer as Due Process?"
The timing of this is interesting, considering two White House staffers — speechwriter David Sorensen and White House aide Rob Porter — have resigned in the past week after allegations of domestic violence surfaced, as reported by NBC News.
Although the president didn't mention any names in his most recent tweet, the resignation of former staff secretary Rob Porter is still very fresh in people's minds. Porter resigned on Wednesday after his two ex-wives came forward with domestic abuse allegations, as reported by The New York Times. "These allegations are simply false," Porter said in a statement, according to the publication. On Friday, Trump echoed these sentiments, according to TIME, saying, "He says he's innocent, and I think you have to remember that. He said very strongly yesterday that he's innocent." Romper's request for comment from Rob Porter regarding the allegations was not immediately returned.
On Friday, David Sorensen announced his resignation following allegations of domestic violence from his former wife, Jessica Corbet, as reported by NBC News. Romper's request for comment from David Sorensen regarding the allegations was not immediately returned.
Among allegations by Corbet was that Sorensen had reportedly run over her foot with a car, thrown her against a wall, put out a cigarette on her hand and grabbed her by the hair, according to NBC News. In response to the allegations, as NBC News reported, Sorensen said in a statement:
I want to be as unequivocal as possible: I have never committed violence of any kind against any woman in my entire life. In fact, I was the victim of repeated physical violence during our marriage, not her.
Needless to say, Twitter was pretty furious over Trump's comments defending only the accused, calling the POTUS out for saying those lives are being "destroyed by a mere allegation." One person shared a photo of one of Porter's ex-wives, Colbie Holderness, in which she has a black eye that was published in the Washington Post earlier this week. "Here's a picture of a mere allegation in case you didn't see it," the Twitter user wrote.
Some Twitter users also brought up the fact that due process does happen, despite what the president thinks — and that defending only the accused isn't exactly the definition of due process, either.
Others pointed out that "allegations" are kind of how Trump seemingly prefers to operate.
Still others noticed that Trump's tweet could serve in his own best interests.
As for my thoughts on Trump's comments? My question is this: What about the lives that have already been shattered and destroyed — the lives of women who are victims of sexual and/or domestic violence at the hands of these men? Do their lives not matter? Lives and reputations are being ruined because of men's actions, not because their victims are speaking out. It's just that, thanks in part to the #MeToo movement, women feel empowered enough to finally come forward with the truth.