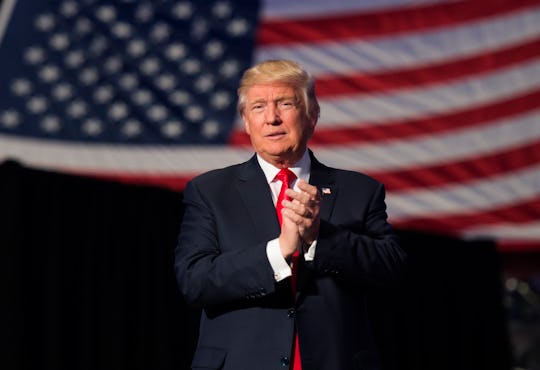 DON EMMERT/AFP/Getty Images
Trump's Tweets About The DNC Hack Show He Still Isn't Bothered By Russian Interference
The more government intelligence officials are learning about the alleged Russian hacking that occurred ahead of the 2016 presidential election, the more they are becoming deeply concerned. According to NPR, reports have suggested that the Russian government may have interfered in a few ways: from illegally accessing email accounts, interfering with state voting registration systems, and hacking the Democratic National Committee. And, yet, President-elect Donald Trump has continued to brush off those claims in interviews and on social media. Most recently, he took to Twitter Friday to address the issue, but Trump's tweets about the DNC hack show that, once again, he still doesn't seem to think it's a problem.
Though much of Trump's commentary regarding the hacking has been focused on claiming that no one really knows for sure whether Russia did, in fact, launch a cyberattack on the United States (even though the Director of National Intelligence and the Department of Homeland Security officially confirmed it back in October in a joint statement, according to The Washington Post), his latest tweets seem to be employing a new strategy: deflection. Early Friday, Trump referenced the DNC hack, and wrote, "Are we talking about the same cyberattack where it was revealed that head of the DNC illegally gave Hillary the questions to the debate?"
Trump's tweet was likely an attempt to hit back at remarks made by President Obama released Thursday from an interview with NPR, in which Obama said that the government has concluded that Russian-led hacking was part of an effort to influence the election:
...[W]hat the Russian hack had done was create more problems for the Clinton campaign than it had for the Trump campaign. There's no doubt that it contributed to an atmosphere in which the only focus for weeks at a time, months at a time were Hillary's emails, the Clinton Foundation, political gossip surrounding the DNC. ... [Trump's campaign] understood what everybody else understood, which was that this was not good for Hillary Clinton's campaign.
Obama also noted that, while government-led hacking is far from new or surprising, the fact that it was used specifically to target the election is what makes it particularly concerning:
There's a difference between that and the kind of malicious cyberattacks that steal trade secrets or engage in industrial espionage, something that we've seen the Chinese do. And there is a difference between that and activating intelligence in a way that's designed to influence elections.
Many twitter users — including vocal Trump critic, and former independent presidential candidate Evan McMullin — have called out Trump for focusing on Clinton and the DNC when he should really be focusing on the fact that hacking by the Russian government is a major national security threat. But what's also notable is that his most recent tweet seems to totally backtrack on his previous claims, which was that the uproar over Russian hacking only began after the election, and was really just an effort to undermine his win.
On Monday, Trump penned a tweet asking why the Russian hacking allegations hadn't been brought up before the election, and on Thursday, Trump tweeted, "If Russia, or some other entity, was hacking, why did the White House wait so long to act? Why did they only complain after Hillary lost?" The problem though is that, well, plenty of people did bring up the issue of Russia-led hacking before the election — and Trump himself even spoke about it in debates.
In addition to the October statement made by the U.S. Intelligence Community (released one month before the election), Trump and former Secretary of State Hillary Clinton sparred off during the final presidential debate about whether or not Trump was "Putin's puppet," according to Politifact. But even that wasn't the first time it had been discussed. In July, The New York Times reported that the White House had "high confidence" that Russia had been interfering with the DNC, and in September, ABC News reported that Russian hackers were thought to be behind the "nearly half of the states in the U.S." that had their voter registration systems targeted, and the four which were actually breached. But in the first presidential debate, on Sept. 29, Trump famously said that, while Russia could be behind the cyberattack, it could also be China, or it "also could be somebody sitting on their bed that weighs 400 pounds, OK? You don't know who broke in to DNC."
Russia, for one, has denied any involvement, but according to Reuters, White House deputy national security adviser Ben Rhodes told MSNBC that, it's likely that Russian President Vladimir Putin himself authorized the cyberattack:
I don't think things happen in the Russian government of this consequence without Vladimir Putin knowing about it. When you're talking about a significant cyber intrusion like this, we're talking about the highest levels of government.
An unnamed official told to Reuters that, while it may not have always been Putin's intention to sway the election in Trump's favor, that's ultimately exactly what ended up happening, since Putin allegedly came to believe that Trump "would be much friendlier to Russia [than Clinton], especially on the matter of economic sanctions." And it sounds like it wouldn't have been particularly difficult for Putin to do, either: a second anonymous U.S. official told Reuters that,
If anything, given his background as a KGB officer, Putin has a much tighter grip on all Russian intelligence operations, civilian and military, foreign and domestic, than any democratic leader does.
While it hasn't been proven that Putin interfered to help put Trump in the White House, it's not all that difficult to see why he may have wanted to. Trump has generally been reluctant to speak out against Putin or Russia, and recently told TIME, for example, that he "[didn't] believe they interfered" in the election. In the same interview, he even asked "why not get along with Russia? ... [They] can help us fight ISIS, which is both costly in lives and costly in money. And they're effective and smart."
Trump likely won't be the only one in his Cabinet not particularly interested in coming down hard on Russia either. According to Business Insider, on Tuesday, Trump appointed ExxonMobil CEO and chairman Rex Tillerson to be his secretary of state — a man who himself has a long-standing business relationship with the Russian president. But with Obama vowing to get answers about Russian's involvement in the election before he leaves office in January, it's clear that Russian hacking is still a priority that the country is taking very seriously — at least for now.