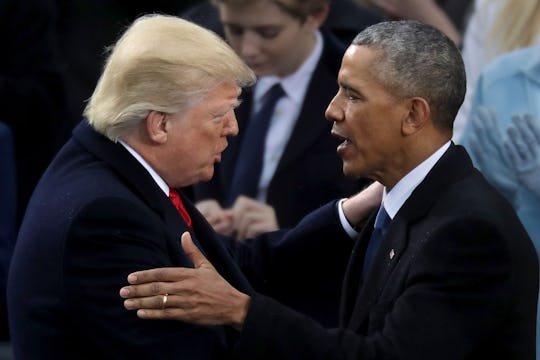 Chip Somodevilla/Getty Images News/Getty Images
Trump Goes On Twitter Rant About Obama
President Donald Trump is no stranger to making claims that are seemingly out of left field. The president is highly opinionated and headstrong — which is what his supporters like about him — but sometimes those opinions and claims are a little concerning. On Saturday, for example, Trump accused former President Barack Obama of wiretapping phones in Trump Tower before during the 2016 election. But there is absolutely no proof of this wiretapping and Trump's tweets claiming Obama wiretapped his phones are incredibly troubling, as those claims appear to be largely baseless.
"Terrible! Just found out that Obama had my 'wires tapped' in Trump Tower just before the victory. Nothing found. This is McCarthyism!" Trump wrote in one tweet. He then continued. "Is it legal for a sitting President to be 'wire tapping' a race for president. Turned down by court earlier. A NEW LOW!" Finishing off his Twitter rant, Trump tweeted, "How low has President Obama gone to tapp my phones during the very sacred election process. This is Nixon/Watergate. Bad (or sick) guy!"
If you think Trump's claims about Obama wiretapping his phones are coming from no where, that's because they are. Trump's statements about wiretapping on Twitter were the first time Trump — or anyone else in his administration — had ever mentioned the allegation before. According to The New York Times, these allegations are "explosive" and lack any supporting evidence.
According to The Times, a spokesperson for Obama said the claims made in the tweets are "simply false" and two former senior officials quickly denied the claims. "A cardinal rule of the Obama administration was that no White House official ever interfered with any independent investigation led by the Department of Justice," spokesman Kevin Lewis said. "As part of that practice, neither President Obama nor any White House official ever ordered surveillance on any US citizen. Any suggestion otherwise is simply false."
According to The Times, Trump's claims could have been made in retaliation to information presented by intelligence officials concerning alleged links between Trump's campaign and the Russian government. But other than that, it is important for everyone to know that there is no evidence or logical support to back up Trump's claims, especially as the former director of national intelligence, James Clapper, denied any claims of wiretapping of Trump Tower before the election to Meet The Press. "There was no such wiretap activity mounted against the president, the president-elect at the time, or as a candidate, or against his campaign," Clapper told Meet The Press host Chuck Todd.
Matters were made worse on Sunday, when White House Press Secretary Sean Spicer took to Twitter, calling for an investigation of the alleged wiretapping. "Reports concerning potentially politically motivated investigations immediately ahead of the 2016 election are very troubling. President Trump is requesting that as part of their investigation into Russian activity, the congressional intelligence committees exercise their oversight authority to determine whether the executive branch investigative powers were abused in 2016. Neither the White House nor the President will comment further until such oversight is conducted," the White House said in an official statement about the allegations.
Spicer's statement, that neither the White House nor the President will comment on the reports, is even more troubling. It is disturbing to know that the president could introduce baseless claims without wishing to elaborate, especially when so many questions about the claims remain.
Compounding the issue is the fact that wiretapping itself is not as simple of a process as one might think, especially when called for by a president. According to CNN, the president would have had to obtain a warrant, which would have been taken in front of a judge by investigators. And even then, a federal judge would have to approve a warrant only "if he or she had found probable cause that Trump had committed a federal crime or was a foreign agent."
Trump's tweets claiming that Obama wiretapped his phone are troubling. But perhaps even more concerning is the fact that his administration seems to have no knowledge of those claims and seems unwilling to discuss it at length.