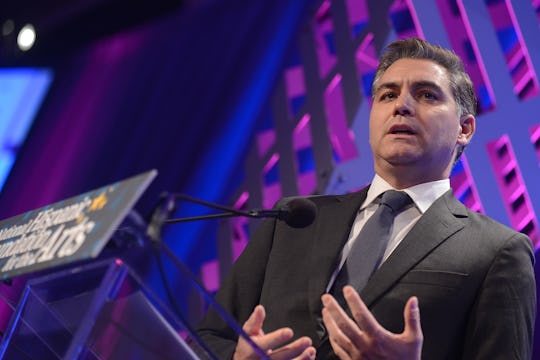 Shannon Finney/Getty Images Entertainment/Getty Images
Trump's War With The Press Escalated After A Tense Exchange At A Press Conference
In what many are calling a new low, President Trump slammed CNN's chief White House correspondent Jim Acosta at Wednesday's post-midterms press conference, calling him a "rude, terrible person," after the journalist continually tried to push his hard-hitting questions about the migrant caravan. There is one thing that is evident in all this: Trump's war with the press is escalating after this tense exchange and people are voicing their opinions all over social media.
To add insult to injury, Press Secretary Sarah Sanders confirmed Wednesday night that Acosta's "hard pass" press credentials into the White House had been suspended due to a supposed physical altercation between Acosta and a White House intern. Without the pass, he cannot join the rest of the press corps for press conferences and other news events.
"I've just been denied entrance to the WH," Acosta said in a tweet. "Secret Service just informed me I cannot enter the WH grounds for my 8pm hit."
Acosta continued to document the situation as it unfolded, posting another video to Twitter in which his press pass is physically revoked by a Secret Service agent. In the video you can hear the following:
"I was just told to do it," the officer said on the recording.
"I am now giving my hard pass to the Secret Service," Acosta said.
In the video from today's press conference, you can see a young woman, presumably the intern, try to forcefully take Acosta's microphone away. A closer look shows that their arms seem to collide in an awkward manner.
Acosta can be heard saying, "Pardon me ma'am," as the intern repeatedly pulls on his arm.
CNN issued an official statement that read:
This President's ongoing attacks on the press have gone too far. They are not only dangerous, they are disturbingly un-American. While President Trump has made it clear he does not respect a free press, he has a sworn obligation to protect it. A free press is vital to democracy, and we stand behind Jim Acosta and his fellow journalists everywhere.
Fellow White House correspondent Peter Alexander was called on by Trump directly after Acosta and was quick to support his colleague, according to CNN.
"In Jim's defense, I've traveled with him and watched him, he's a diligent reporter who busts his butt like the rest of us," Alexander said.
"Well I'm not a big fan of yours either," Trump said.
Many are calling for the rest of the press corps to show their support.
Others are pointing out the extreme hypocrisy of this action.
Many are saying that it's clear Acosta did not place hands on the intern.
Even long-time, respected and award winning journalist Dan Rather had something to say.
Still others think that Trump acted out of fear.
Now that this contentious day has come to an end, it will be interesting to see where social media picks up tomorrow morning in regards to Acosta's questions as well as the White House and the press corps.