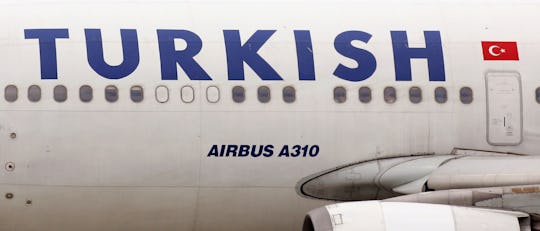 Scott Barbour/Getty Images News/Getty Images
This "Flyover Baby" Was Born 42,000 Feet In The Air
There's an endless list of common inconveniences associated with flying, but feeling labor pains while 42,000 feet in the air is on a whole different level than battling a neighbor for armrest space. That's exactly what happened to one woman who was aboard a flight headed to Ougadougosu, Burkina Faso, from the Guinean capital of Conarky recently. The result? An unexpected passenger and, later, one heck of a tweet when the Turkish Airlines crew delivered the baby girl.
The mom, Nafi Diaby, began to notice that something was up mid-flight, according to NBC News. She was 28 weeks pregnant — but, soon, she would no longer be pregnant at all. On April 7, the airline tweeted a celebration of the successful birth of the baby, who was named Kadiju. "Welcome on board Princess!" the tweet read. "Applause goes to our cabin crew!" Attached, a series of photos that are once heartwarming and stress-inducing: an animation of a Turkish Airline plane literally delivering a suspended baby girl, stork-like; real-life photos of Diaby spread across a row of seats with her baby on her chest, surrounded by crew members; and a flight attendant holding her wrapped in what looks like an in-flight blanket.
According to The Sun, Diaby went into labor shortly after the plane took off — and it wasn't long after that until Kadiju joined other other passengers. "The mother gave birth while standing, and we received help from several other passengers," a flight attendant named Bouthayna Inanı, who helped with the birth, told the publication.
Despite the unexpected setting, the birth seems to have happened without a hitch. Both mother and baby were taken to the hospital when the plane landed, and both are reportedly healthy and doing well. And they're not the first mother-daughter pair to have a happy outcome after a surprise airplane birth. In August 2016, Philippine low-cost carrier Cebu Pacific Air presented one million frequent flier points to a baby named Haven after she was born during a flight from Dubai to Manila, USA Today reported. In that case, the crew as well as two passengers who were also registered nurses ushered the baby safely into the world.
But there are complications to being born on an airplane, too — even if they have nothing to do with the health of the baby or the mother. For example, figuring out the official nationality of a baby born in such a circumstance is a major conundrum.
Still, during the craziness of the flight and the birth of the "flyover baby," that probably wasn't the first thing on anyone's mind at the time.