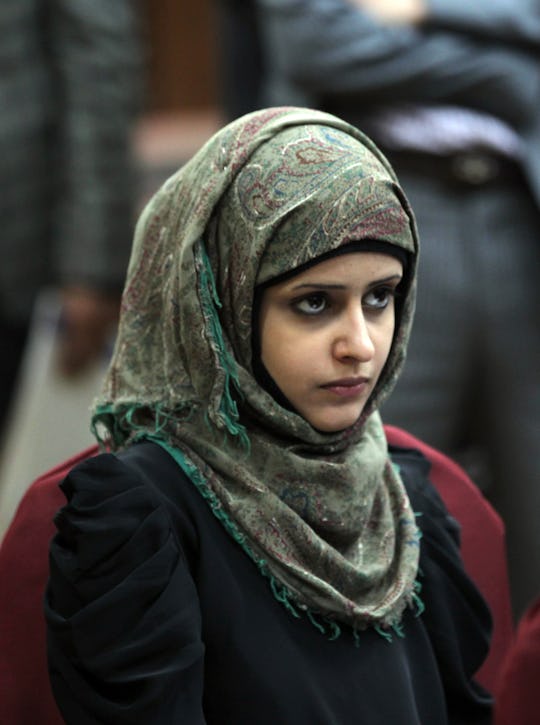 MOHAMMED HUWAIS/AFP/Getty Images
Turkish Bill Pardons Sexual Abusers Who Marry Their Victims & People Are Rightly Upset
Protests erupted in Istanbul this week after the ruling AK party introduced a Turkish bill that effectively pardons sexual abusers who marry their victims. The proposal, which will be debated this week in the Turkish parliament, would be applied retroactively to some 3,000 extant cases of sexual abuse committed against girls under the age of 18, according to Reuters. The bill would overturn convictions and indefinitely delay sentencing in cases where the sexual abuse of a minor occurred "without force, threat or trick." The postponement of sentencing will occur only if the perpetrator marries the victim, and will reportedly only be applied to past cases that occurred between 2005 and 2016.
In order to understand the context of the bill, it's important to recognize that child marriage is widespread in Turkey. According to the human rights group Girls Not Brides, an estimated 15 percent of girls get married in Turkey before the age of 18, often to much older men. However, the Girls Not Brides website notes that the true number might be higher because "most child marriages are unregistered and take place as unofficial religious marriages." The legal age of marriage in Turkey is 17 under the Turkish Civil Code, but religious marriages below this age are common, and many of these marriages are not registered with the Turkish government.
These "unofficial religious marriages" are central to the debate taking place this week in Turkey. Prime Minister Binali Yildirim, who supports the bill, claims that the loophole is targeted to men who married the girl in a religious ceremony without realizing that the marriage was against the Turkish Civil Code. These illegal marriages, according to Yildirim, are sometimes discovered by doctors when they assist teenaged mothers during childbirth. "They don't know the law, then they have kids, the father goes to jail and the children are alone with their mother," Yildirim told reporters on Friday.
However, concerned citizens and women's rights activists throughout the country see this is a thinly veiled effort to further legitimize child marriage and legal immunity for committing sexual violence in Turkey. Gauri van Gulik, Amnesty International's deputy Europe director, told The Guardian that in the case of underage girls, it is impossible to "guarantee that there was in fact full and informed consent." She added that the bill sends "the wrong message and could lead to further abuse."
Critics see this bill as one of several recent efforts in President Erdoğan's conservative administration to strip women and girls of their rights. In August, Turkey's constitutional court overturned a law that had increased the punishment for sexually abusing children under the age of 15, according to CNN. Moreover, Erdoğan is intent on increasing the birth rate in Turkey; In a speech this June, he said that "A women who rejects motherhood, who refrains from being around the house, however successful her working life is, is deficient, is incomplete... I would recommend having at least three children."
Mehmet Onur Yilmaz, who works with a children's rights organization in Turkey, told the Associated Press that this effort to pardon cases of statutory rape stems from a culture that doesn't see consent as relevant in child marriages. "If there was an understanding that child marriage constituted sexual assault, such a proposal would not even be brought up," said Yilmaz. "This comes from looking at the matter with a focus on marriage, a conservative understanding which sees marriage as a solution to the problem of abuse."
For now, it's unclear whether the proposal will be passed, or how it will be enforced.