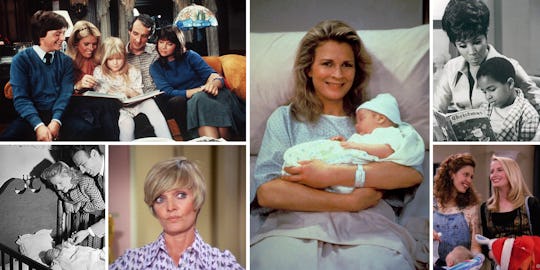 From Wearing Pants To Being A (Pre-Kardashian) Momager: A Timeline Of TV Mom Firsts
Scripted television in America has a complex history, especially when it comes to the endless portrayals of the "everyday" family. Now when we tune in, we're able to enter the lives of wider variety of households than back when I Love Lucy premiered in 1951 — and looking at the role of motherhood specifically makes for a fascinating study in the evolution of our culture. Thanks to a bunch of groundbreaking TV mom firsts, small screen mothers have progressed from that Suzy Homemaker sidekick in black and white, the poster mom that no one could live up to, always well dressed, perfectly groomed, with a clean house and a hot meal on the table the second her family needed it.
Now? We have Dr. Rainbow Johnson on Black-ish, a certified anesthesiologist who graduated from Brown University and a mother of four. We have Jane Villanueva on Jane The Virgin, a single mother who accomplishes her dream of writing and publishing a book, Modern Family's Gloria Delgado-Pritchett, an immigrant mother from Colombia, and Jessica Huang from Fresh Off The Boat, a Chinese-American wife and mother who becomes a realtor after realizing her husband isn't making enough money to support their family's needs. Thanks to these modern day portrayals, feminism and diversity seem to finally have a place on our small screens, even if we still have a long way to go when it comes to truly inclusive representation.
But who paved the way for the modern slate of moms who live life on their own terms, and not just as a background character or a foil?
To answer that question, I took a deep dive into the timeline of motherhood firsts on television, and though some of what I found wasn't that surprising — a lot of it was. A lot. No spoilers, but a good example is that it took 17 years for family sitcoms to deliver their first black mom. Or how about that it took 10 years from the debut of I Love Lucy for a mom on TV to be able to wear pants as part of her everyday attire?
So grab a cup of hot tea or glass of wine, get cozy, and prepare yourself for a walk through television history.