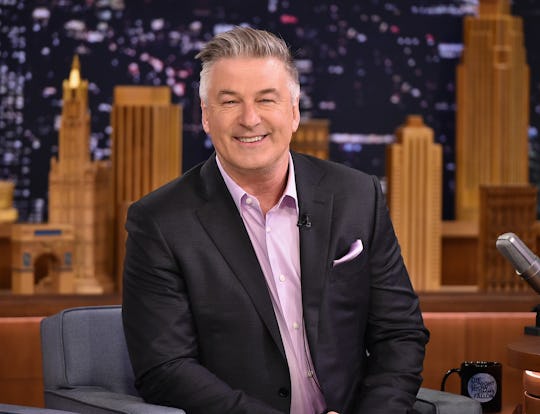 Theo Wargo/Getty Images Entertainment/Getty Images
Tweets About Alec Baldwin & The Correspondents' Dinner
On President Trump's 100th day in office, it's "nerd prom" on the Hill as the annual White House Correspondents' Dinner began Saturday night at the Washington Hilton. Most notably not in attendance was of course the president himself, who instead opted out of the affair and flew to Harrisburg, Pennsylvania, for yet another post-election "rally." But of course, there could always be a Trump stand-in — perhaps actor Alec Baldwin and his frighteningly accurate portrayal of Trump for Saturday Night Live? Tweets about Alec Baldwin and the White House Correspondents' Dinner have been flying fast and furious in advance of the event, as fans hoped Baldwin's permanent pucker-lipped character might make an appearance Saturday night.
Just days after President Trump tweeted that he would not be attending this year's White House Correspondents' Dinner, fans immediately started calling on Baldwin to be Trump's stand-in at the event. Some fans were even motivated enough to start and circulate a MoveOn.org petition asking the White House Correspondents' Association to send Baldwin to the event as the evening's official Trump replacement.
So far, Baldwin has not yet made an appearance. Some fans remain hopeful on Twitter, encouraging the 59-year-old actor currently starring in the animated film Boss Baby to surprise and regale with his wicked sharp take on the president.
It appears however, that Baldwin won't be making an appearance at the White House Correspondents' Dinner at all. On Friday, Baldwin tweeted via his Alec Baldwin Foundation Twitter account about skipping out on politics altogether for the weekend.
"Where's Alec Baldwin?" became the plea of the night on social media.
Of course, plenty of people were happy to channel Alec Baldwin as Trump in their hearts and minds. Oh, and gifs.
Even though Baldwin couldn't show up in person, he did manage to wish the White House Correspondents' Association a brief video message from the backstage of Saturday Night Live. Following WHCA President Jeff Mason reading the text of the First Amendment, he introduced the very brief video clip of Baldwin, decked out in his Donald Trump SNL costume. Baldwin turned to the camera and told the crowd, "Keep up the good work!"
While it's certainly encouraging for those who were in attendance to get a verbal pat on the back for their journalistic efforts with the protections of the First Amendment, some folks on Twitter were less than thrilled with the 30-second clip of Baldwin as Trump.
While Baldwin's quick pre-recorded cameo may have left a lot to be desired, it was definitely a moment of much needed levity at what quickly turned into one of the weirder nights on the Hill.