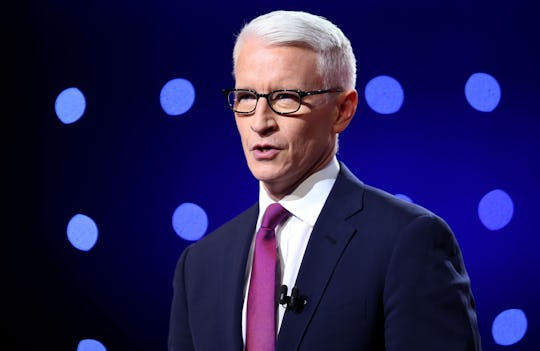 Scott Olson/Getty Images News/Getty Images
Tweets About Anderson Cooper Moderating The Second Presidential Debate Are Fire
During the second presidential debate between Hillary Clinton and Donald Trump, some viewers at home were eager to embrace an occasional distraction from the bickering — and Anderson Cooper was just the man for the job. During the night, tweets about Anderson Cooper moderating the second presidential debate gained quite a bit of traction online. It was as if people came for the politics and stayed for CNN's resident silver fox.
Cooper and co-moderator Martha Raddatz of ABC News are, of course, very qualified for the roles: Both are well-versed in the issues posed to the candidates. And, as they showed when moderating debates during the primary season, they are inclined to press the candidates on issues that matter. However, Cooper did suggest before the presidential showdown that he wasn't there to babysit. "You want it to be a discussion about the two, and if one is interrupting the other, that tells the audience something, and people can make up their own minds about what exactly that means," he said on CNN before the debate about his role in moderating Trump and Clinton. "I'm not sure it's always good for the moderator to be stepping in and trying to direct and keep everything to time."
Even though Cooper wasn't trying to make a scene of his own, that certainly didn't stop people at home from paying him notice.
Despite Cooper's intentions to stay out of the crossfire between Trump and Clinton, he had to intervene at several points during the night — mostly to ask Trump to permit Clinton to speak. That earned him a lot of points with people at home, many of who grew tired of Trump interrupting Clinton during the first debate two weeks ago.
Of the first debate, Dr. Janet Scarborough Civitelli, a vocational psychologist in Austin, Texas, told PBS News Hour, "Many women watching Trump's treatment of Clinton feel a sickening sense of familiarity with patronizing behavior directed at them during every work day." With Cooper and Raddatz steering the ship during the second debate, it seemed Trump was kept in line a bit more often, proving two versus one was an effective strategy.
Cooper also earned praise by some for calling out Trump for his comments about what amounted to sexual assault on women, while some others said that was taking sides. (Trump issued an apology for the tape, and Trump's campaign didn't respond to Romper's request for comment.)
But, one thing most people could agree on was that Cooper wasn't messing around at the second debate.
Really, Cooper and Raddatz do deserve a lot of credit for the debate, which could have easily turned into a brawl without their moderation.