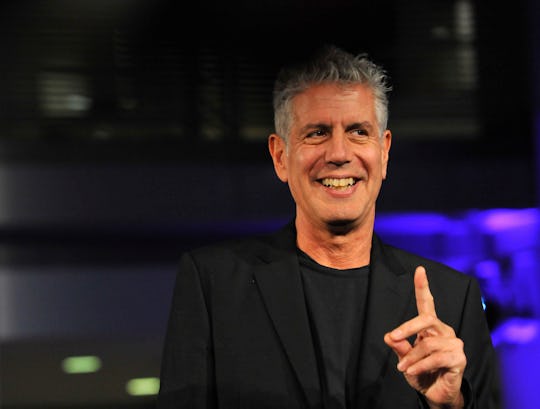 Larry French/Getty Images Entertainment/Getty Images
These Tweets Following Anthony Bourdain's Death Capture How His Legacy Has Touched The World
The world lost one of the greats on Friday morning. According to CNN, celebrity chef, author, and TV personality Anthony Bourdain had died at the age of 61 of an apparent suicide. Romper's request for comment from Bourdain's representative was not immediately returned. Fans, friends, and colleagues took to social media to share their grief, and the tweets about Anthony Bourdain's death show that his legacy touched people around the world, not only by introducing them to new foods, but new cultures, as well.
For over 16 years, Bourdain hosted several TV series that combined world travel and cuisine, in which he invited viewers to join him as he explored the world. He first rose to fame after the success of his bestselling 2000 memoir, Kitchen Confidential. A USA Today review hailed it as "a wonderful look at the weird world beyond the menu," and said the author "captures the world of restaurants and professionally cooked food in all its theatrical, demented glory."
Bourdain's first series, A Cook's Tour, premiered on the Food Network in 2002 and ran for two seasons. He then moved on to the Travel Channel, hosting No Reservations and later, The Layover before finally moving on to CNN, where he hosted the award-winning travel show Parts Unknown since 2013. CNN reported on Friday that Bourdain was working on an upcoming episode of that program on location in France prior to his death.
Since news broke on Friday morning, tweets from all over the world have filtered in, sharing their heartfelt condolences of the iconic chef's passing as well as the memories Bourdain's legacy has left with them.
Both celebrity chefs are known for refusing to mince words — Bourdain once characterized Hell's Kitchen as "a bunch of dimwits" with Ramsay "pretending to be angry," according to NBC Miami — but they were actually quite friendly, and we might not know Ramsay's name today if it weren't for his 2002 appearance on A Cook's Tour. "There are moments when you know you're about to get a really good meal," Bourdain confided in his viewers as he awaited his order at Ramsay's eponymous U.K. restaurant. "This is one of them."
In 2017, Bourdain traveled to the war-torn city of Jaffna, in northern Sri Lanka, and visited with residents who are still trying to piece their homes back together after a brutal, decades-long civil war. It took a 10-hour train ride just to get there, according to Food & Wine, but the care and hope he gave the Tamil people is immeasurable.
Bourdain and Neil deGrasse Tyson, who both helped everyday folks understand the inner workings of their respective fields with their books and TV programs, have known each other for years. Bourdain was interviewed in a two-part series on StarTalk Radio, the astrophysicist's podcast, in 2013, and they also appeared together on Real Time with Bill Maher in 2011, alongside Steve Bannon. Watch it here.
"I've made a lot of hours of television over the years," Bourdain wrote on his Tumblr blog in 2013, "but I think I'm proudest of Sunday's Libya episode. I believe it is the best piece of work I've ever been part of." The full video is available on CNN.com.
When Parts Unknown traveled to Jerusalem, Gaza, and the West Bank, Bourdain introduced the episode in dramatic fashion, according to the Daily Beast: "By the end of this hour, I'll be seen by many as a terrorist sympathizer, a Zionist tool, a self-hating Jew, an apologist for American imperialism, an Orientalist, socialist, a fascist, CIA agent, and worse." All because he provided an honest depiction of Palestinians, something many are afraid to do.
Bourdain's visits to Seoul rank among many fans' favorite episodes, and judging by the chef's own words regarding his 2015 visit, it was one of his favorite destinations, as well: "So it was a no-brainer that as soon as I could, I'd go back to South Korea and do what Koreans do so well: eat lots of great food, drink lots and lots of beer and soju and other alcoholic beverages — and then do silly sh*t that you would never do if you weren't with Koreans," he said, according to CNN.
The host of Ride With Norman Reedus — basically Parts Unknown with motorcycles instead of food — told Deadline in 2016 that Bourdain inspired him to create the series
I can't cook, but I love watching Anthony Bourdain going around eating food and talking about it. I like meeting people and learning about different cultures. It's not just foodies who like his shows. So it's nice to sit back and be entertained and at the same time, learn new things, and that's what we tried to do with Ride.
Bourdain wasn't shy about his thoughts on U.S.-Cuba relations, writing in a 2015 blog post, "It's ludicrous that ordinary Cubans, 100 miles from our shores, have been excluded from the international conversation, deprived for so long of basic internet access, social media, even the ability to watch American baseball on TV."
Bourdain worked to change false assumptions and stereotypes about Africa both on TV and on social media; after the infamous "sh*thole countries" incident, he tweeted, "It's worth reminding the Pres that Africa is a continent, not a country. That it is incredibly diverse—one part as different from the other as any places could be. Heartbreaking that this simple fact is beyond his notice or interest."
Most people are more willing to try out new food than new ideas. Bourdain capitalized on viewers' love for food, using it to show them that we all have more in common than we might've thought.
If you or someone you know are experiencing suicidal thoughts, call 911, or call the National Suicide Prevention Hotline at 1-800-273-8255 or text HOME to the Crisis Text Line at 741741.