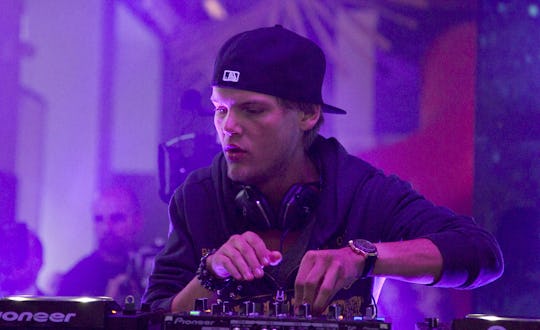 Mike Lawrie/Getty Images Entertainment/Getty Images
Avicii Has Died At 28 Years Old, & Fans Are So Heartbroken
Swedish EDM DJ Tim Bergling, better known as Avicii, was found dead on Friday afternoon, Variety reported. He was 28 years old. The Twitter reactions quickly came pouring in, and these tweets about Avicii's death show that fans are utterly heartbroken over the loss of an artist they associate with their coming-of-age years.
The cause of the artist's death is unknown at this time, but according to Billboard, he suffered from several health issues, including acute pancreatitis, "in part due to excessive drinking." He had his gallbladder and appendix removed in 2014, and in 2016, he shared his decision to retire from touring in a letter to fans. "I know I am blessed to be able to travel all around the world and perform," Avicii wrote on his website, "but I have too little left for the life of a real person behind the artist." Variety published the following statement from Avicii's rep on Friday:
It is with profound sorrow that we announce the loss of Tim Bergling, also known as Avicii. He was found dead in Muscat, Oman this Friday afternoon local time, April 20th. The family is devastated and we ask everyone to please respect their need for privacy in this difficult time. No further statements will be given.
The DJ also wrote that it wasn't the end of his music career.
I will however never let go of music — I will continue to speak to my fans through it, but I've decided this 2016 run will be my last tour and last shows. Let's make them go out with a bang!
Last year, he issued another letter to fans, saying that creating music is what he "was born to do."
Last year I quit performing live, and many of you thought that was it. But the end of live never meant the end of Avicii or my music. Instead, I went back to the place where it all made sense — the studio.
In August 2017, he released the EP Avīci (01), his first studio recording in nearly two years. It reached number one on the Swedish music charts, and number three on Billboard's Top Dance/Electronic Albums in the United States.
CNN hailed Avicii as "one of the most successful touring DJs in the industry," noting that he broke through to mainstream audiences with his crossover pop song "Wake Me Up" in 2013.
Avicii earned two Grammy nominations for Best Dance Recording for the songs "Sunshine" and "Levels" in 2012 and 2013, respectively.
The BBC's Mark Savage recalled one fan at Avicii's last concert in 2016 climbing a 100-foot high scaffolding tower in order to get a better view, calling it "a testament to Avicii's ability to enchant an audience." During the two-hour set, held at an Ibiza beach hotel, Avicii made good on his promise to "go out with a bang," judging by Savage's review.
He approached it all with an energy and optimism that permeated his own recordings. It's no surprise he was one of the most beloved DJs on the circuit.
In 2017, Avicii sat down with Rolling Stone to discuss his upcoming documentary, Avicii: True Stories, including scenes that showed him in "excruciating pain" due to his pancreatitis, arguing with promoters who insisted that he keep touring. "It was hard," the DJ said of those moments. "I looked at myself like, 'F*ck, you should've really stood up for yourself more there. Come on, Tim!' Why didn't I stop the ship earlier?"
Avicii's star burned bright during his relatively short, but hugely successful career, and his fans are grateful for everything he gave to them.
He helped usher EDM into the mainstream music scene, and his legacy won't be forgotten.