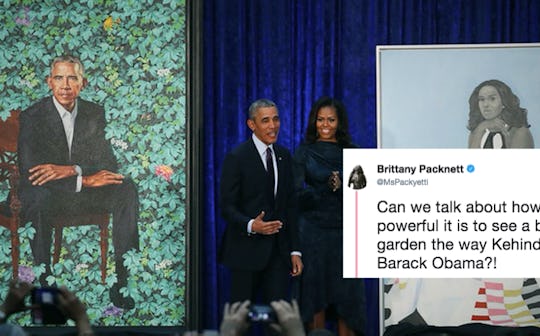 Mark Wilson/Getty Images News/Getty Images
Barack & Michelle Obama's Presidential Portraits Are Here & Twitter Is Super Nostalgic RN
On Monday, many Americans melted into a puddle of love and nostalgia when the National Portrait Gallery unveiled Barack and Michelle Obama's official presidential portraits. The paintings are eye-catching, deeply meaningful, and history-making, much like the 44th president and first lady. And from the overwhelming response on Twitter, it seems that these portraits are making many Americans miss the former first couple even more than normal.
The Obamas are the first African-American couple to grace the walls of this particular collection, and they both made a statement by choosing African-American artists to capture their legacies. Many of the presidential portraits in the Smithsonian's collection are relatively standard, more interested in presenting an important figure in a straightforward and flattering way than in doing anything artistic. Not these two.
The president's portrait, by artist Kehinde Wiley, captures him with a somewhat stern, contemplative look on his face, sitting on a chair that seems to float among various flowers and greenery. According to The New York Times, the flowers all represent something different: "African blue lilies represent Kenya, his father's birthplace; jasmine stands for Hawaii, where Mr. Obama himself was born;" while the chrysanthemums poking out from the greenery are the official flower of Chicago, which is where Barack met Michelle, and started his political career.
Meanwhile, Michelle Obama's portrait, painted by Baltimore artist Amy Sherald, depicts the former first lady against a blue background, painted in a gray scale, clad in a flowing dress. And, of course, the portrait shows off the former first lady's famous arms.
While some on social media complained that the portrait of Michelle Obama didn't look all that much like her, Pulitzer Prize-winning art critic Philip Kennicott told CNN that artist Amy Sherald did her work intentionally, saying:
First, she paints skin tones in a gray scale more reminiscent of black-and-white photography than the colors that would strike us as "real" in a color photograph today. The idea is to underscore the fact that during the 19th century, African Americans were rarely the subject of formal portraits. To retain a likeness, they had to be photographed, which was cheaper and more accessible. So Michelle Obama's face stares at us today as if looking out of an album of old family photographs.
All in all, it seems that looking at the portraits, and watching the Obamas on TV at the unveiling, had a lot of people wishing that the couple could just come back and lead the country again.
Meanwhile, some people on Twitter had some fun imagining the inevitable portrait of President Donald Trump:
And the Obamas themselves had their typical charming, graceful, thoughtful reactions to this huge moment. At the portrait unveiling, Barack thanked artist Kehinde Wiley for using his work to give African Americans a platform while, according to Vogue, Michelle had this to say:
Can we just say "wow" again? I have to tell you that as I stand here today with all of you, and look at this amazing portrait that will hang with so many iconic figures, I am overwhelmed to say the least. . . . I'm also thinking about all of the young people, particularly girls and girls of color, who in years ahead will come to this place, and they will look up, and they will see an image of someone who looks like them hanging on the wall.
Leave it to the Obamas to give the world a powerful message and some incredible art at the same time. Now, if you'll excuse me, I'm off to D.C. to go sit in an art museum and imagine myself in a garden with President Obama for the next three years.
Check out Romper's new video series, Bearing The Motherload, where disagreeing parents from different sides of an issue sit down with a mediator and talk about how to support (and not judge) each other's parenting perspectives. New episodes air Mondays on Facebook.