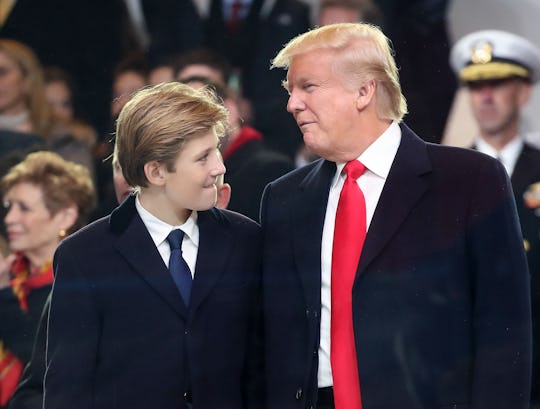 Mark Wilson/Getty Images News/Getty Images
You Need To Read These Tweets About Barron Trump
The actions of President Donald Trump have certainly been questionable since he took office last week. Whether you love him or hate him (is there really an in between?) there is no denying that Trump, over the next four to eight years of his presidency, will be criticized for his actions. One person who should be off limits to criticism, however, is Trump's 10-year-old son, Barron. And these tweets about Barron Trump prove he's just a kid that shouldn't be subjected to torment or bullying, just because his father is president.
Just because he bears the Trump name does not mean that Barron should be made fun of or anything he's necessarily done under that harsh limelight of the public eye. After his very public appearance during his father's inauguration, for example, some people had a lot to say about Barron — mainly negative things, ranging from bullying him about his appearance to "armchair diagnoses" from people trying to label him with medical conditions. But while his father's actions might be controversial, people shouldn't make fun of the pre-teen — who will continue to grow up in front of the public eye for the next four years (and beyond).
Former White House child Chelsea Clinton, who knows this well, has already come to Barron's defense, posting on Facebook that Barron deserves "to be a kid." The following tweets echo Clinton's sentiment: Barron didn't ask to the son of the president and deserves to be a kid — rather than being criticized.
On Tuesday, the White House released a statement calling for people to respect Barron's privacy, according to Variety. "It is a long standing tradition that the children of Presidents are afforded the opportunity to grow up outside of the political spotlight," the White House said in the statement. "The White House fully expects this tradition to continue. We appreciate your cooperation in this matter."
While Barron will still be a kid growing up in the White House, people might not see much of him in the next few months. This is because Barron, along with his mother Melania, won't move into the White House until Barron finishes his school year in New York City.
Being the child of the President of the United States comes with obligations — it means four years of photo opportunities and also having the public watch you go through some not so great moments. (George W. Bush's daughter, Jenna Bush Hager — who was in college during the time her father was president — has even admitted that she is glad social media didn't exist during her father's presidency, according to People.)
Barron shouldn't have to be made fun of for his father's political choices. People should just let Barron be a kid and get the privacy he deserves for the next four years. It's the least anyone can do.