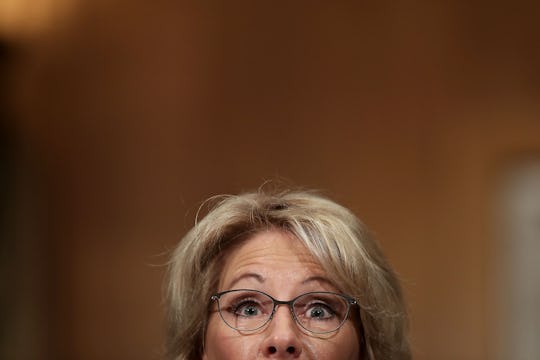 Chip Somodevilla/Getty Images News/Getty Images
Tweets On DeVos' Confirmation Are Filled With Fear
On Tuesday, the Senate officially confirmed President Donald Trump's nominee for education secretary, Betsy DeVos, by an extremely narrow margin. And education advocates (as well as those who care about the future of the education system) are devastated, as the tweets about Betsy DeVos' confirmation clearly highlight. After a 50-50 split, Vice President Mike Pence cast a historic vote following a final effort by Democrats to stop the nomination. DeVos is an extremely controversial pick for the position, and social media has been active this morning with news of her confirmation.
There are many groups contesting DeVos' nomination for many reasons. Labor unions fear that she may damage public education by promoting charter schools and publicly funded voucher programs for private schools. Civil rights activists are also concerned, as are parents and teachers are over the country. Additionally, two GOP senators, Susan Collins of Maine and Lisa Murkowski of Alaska, have announced plans to oppose DeVos as well.
The hashtags #HoldTheFloor, for the protest Senate Democrats staged to oppose the nomination, as well as #NoDevos and #NoOnDeVos were all buzzing Tuesday with Twitter users' thoughts about DeVos and her confirmation today. In particular, #NoOnDeVos is trending this hour, even as the vote is set to take place. The top tweets under this hashtag are, understandably, all negative in regards to DeVos being confirmed. Not only do they outright disagree with the Senate's decision (and Pence's tie-breaking vote), but they all share one common theme: fear over the future of public education.
Twitter user @JohnFugelsang pointed out the fact that refugees, in the news lately partly as a result of Trump's executive order suspending new-refugee admissions for 120 days, are vetted more than someone who will be in charge of education in America. "#NoOnDeVos graphic by @PennDragonArt," he tweeted, with a graphic by the credited fellow Twitter user.
Senator Patty Murray, of Washington state, pointed out that we should, "Remember: Betsy DeVos has called public education "a dead end." #NoOnDeVos"
Senator Al Franken, Minnesota, tweeted, "We wouldn't accept a Treasury Secretary who doesn't understand multiplication. #NoOnDeVos"
User @Pappiness poked fun at comments DeVos made during her confirmation hearings in regards to "potential grizzlies" in schools. "Still waiting for Trump to tweet about how the media refuses to cover the countless grizzly attacks that occur in our schools. #NoOnDeVos"
And Martin Heinrich, a senator from New Mexico, pointed out that, "DeVos has failed to demonstrate that she's qualified to be Secretary of Education or that she understands what the job requires. #NoOnDeVos"
Actress Alyssa Milano quoted Audrey Hepburn in her opposition, tweeting, ""Taking care of children has nothing to do with politics." ~Audrey Hepburn #holdthefloor #NoonDeVos"
And the activist account Democracy Awakening tweeted a call to action, along with a warning to representatives who vote "yes" on the controversial pick. "Keep the calls coming today as we approach the vote. Tell these GOP senators: vote #NoOnDeVos or we'll vote no for you in 2018. #StopDeVos," the account tweeted, along with a graphic with the names and numbers of representatives to call.
In the aftermath of the vote, Twitter users erupted with the news:
There's no denying the frustration that many feel in light of DeVos' confirmation news, but as one Twitter user pointed out, DeVos' confirmation is "just the beginning" of the fight.