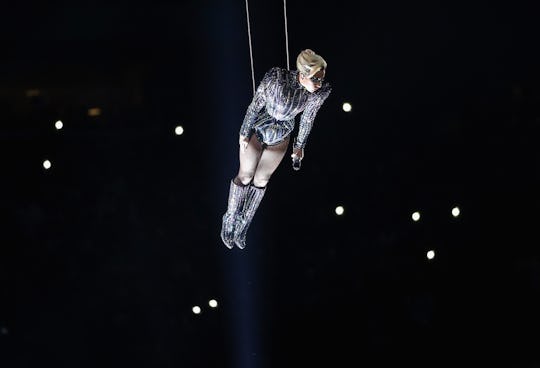 Patrick Smith/Getty Images Sport/Getty Images
Twitter Is Upset Beyoncé Was MIA At The Super Bowl
The Super Bowl hafltime show is an institution. But even though Lady Gaga — this year's selected performer — absolutely killed it on Sunday night, there were still tweets about Beyoncé being MIA at the Super Bowl halftime show, after a brief tease in the form of Gaga's hit song "Telephone" (on which Bey once collaborated). It was clear that while everyone enjoyed the performance they sort of missed Beyoncé, too. Yes, as much as we love Lady Gaga, hearing any kind of beat from "Telephone" was a major tease.
Listen, we all love Gaga and any attempt to entertain and sing to all of us while we watch to game and try to figure out what fourth downs actually mean is greatly appreciated. Which is why many football fans also look to the halftime show to guide their love. Gaga was great. But Beyoncé and Gaga together will always better. (Sorry, but it's true.) Gaga does everything Bey can do, and vice versa, so it always makes for an explosive show. It's sort of why Beyoncé should be on contract for every halftime ever. Beyoncé is the only one that can really add that something special to it.
For what it's worth, Lady Gaga gave it a good run on her own. She came out, did all of her best songs and slayed. She killed it. She did all of her anthems and all of the anthems that actually mean something. But some people (all of us, let's be real) can't see past the fact that we all miss Beyoncé.
This weekend, there was a massive protest around the Stonewall Inn to make a statement about LGBTQ rights under a Trump administration. Gaga didn't address any of that during her halftime performance, as some thought she might — sort of the way Beyoncé addressed police brutality in her halftime show. For what it's worth, Beyoncé didn't say anything explicit last year either and she was judged for her entire performance. It really depends on who's watching and what you're wearing when it comes to the halftime show.
Whatever the case, both women killed it during their halftime shows. It's not an easy feat. But — thank you, Lady Gaga. She really tried to keep people's spirits up during the halftime show this Sunday night. And she did it. Gaga was great. It all just would have probably been even more exciting if Beyoncé had suddenly popped up on stage and made everyone's evening.