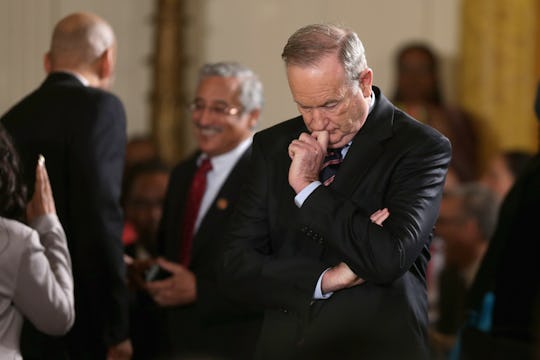 Chip Somodevilla/Getty Images News/Getty Images
Twitter Opines On Bill O'Reilly
According to New York Magazine and The Daily Intelligencer's Gabriel Sherman, who broke the report on Wednesday, Fox News has allegedly decided to cut ties with top-rated host Bill O'Reilly. Allegedly, top network executives are trying to figure out how to end their relationship with O'Reilly without making waves that could hurt the network. The network is reportedly considering pulling O'Reilly as a result of recent sexual harassment allegations that have been a big story in the media. As with any big news story, Twitter is all over this one, and tweets about Bill O'Reilly reportedly leaving Fox News aren't holding back. Because when does Twitter ever hold back when it comes to a story like this?
UPDATE: In a statement to various news outlets on Wednesday, 21st Century Fox, Fox News' parent company, confirmed that O'Reilly would not return to the network. "After a thorough and careful review of the allegations, the Company and Bill O'Reilly have agreed that Bill O'Reilly will not be returning to the Fox News Channel," the statement read.
EARLIER: The Wall Street Journal also reported Tuesday evening that O'Reilly and the network were allegedly in exit talks already. But O'Reilly's side denied that any talks to that effect had taken place or were due to take place anytime soon. For his part, O'Reilly and his lawyers maintain that the allegations against him and the fallout that followed were part of a massive left-wing smear campaign. Romper has reached out to the network for comment on the alleged parting of ways and is awaiting a response.
The O'Reilly Report first premiered in October 1996 and became The O'Reilly Factor months later. The show is a huge staple on the network, and it might be difficult to fill the void O'Reilly will leave if he truly is being ousted — especially because The O'Reilly Factor has been the top cable news show when it comes to ratings for the past 15 years.
Whatever the case, Twitter was ready to weigh in on the situation on Wednesday.
Individual Twitter users got in on the farewells to Bill O'Reilly, and so did the official accounts for some nonprofits and other organizations, like NARAL Pro-Choice America and the Women's March.
And others wondered: what took so long? AM New York reported that it was recently revealed that O'Reilly paid five women to settle sexual harassment claims. On Tuesday, NBC News reported, another woman came out with accusations of sexual harassment against O'Reilly. It could be that the most recent accusation was the final straw for the network.
OregonLive.com reported that one of the main concerns is whether O'Reilly will be allowed to say good-bye to his audience, if he really is out at Fox News. But it sure seemed like Twitter is ready to say goodbye to the television host, especially amid the recent sexual harassment accusation scandal.
According to Syracuse.com, it's unclear who would replace O'Reilly's time slot if he really is done at Fox. That outlet also reported that O'Reilly hinted last year that he might have been thinking about retirement soon anyway — but this was likely not the way he would've wanted to go.
Syracuse.com reported that Fox News and O'Reilly have not commented publicly on the latest reports. But Matt Drudge, of the Drudge Report — a conservative news website — tweeted that, "O'Reilly has had tremendous run. Very few in the business get to decide when and how things end. Media is most brutal of all industries..." So other conservative sources seem to think he's through.
Not all the reactions were angry or included a political bent. Some saw the humor in the situation.
It remains to be seen whether O'Reilly will be back on the air Monday, as he is still scheduled to appear then upon his return from vacation.