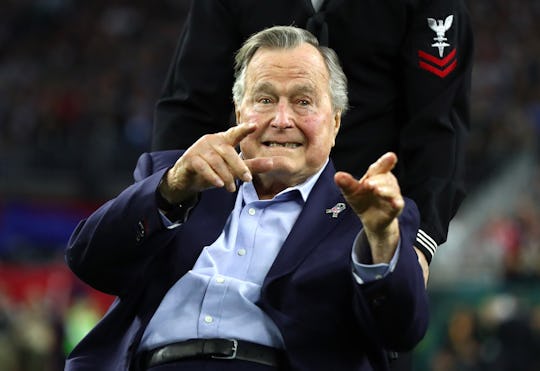 Al Bello/Getty Images Sport/Getty Images
Super Bowl Fans Loved George H.W. Bush
Although they both had to sit out the inauguration on doctor's orders, President George H.W. Bush and his wife Barbara managed to make an appearance at Super Bowl 51 — hosted this year in their home state of Texas — to perform the coin toss. President Bush looked frail as he was wheeled out onto the field, but the surge of affection for the former president and first lady was immediate. And tweets about George H.W. Bush at Super Bowl 51 prove that Trump dissent is a pretty non-partisan issue.
The overwhelming nostalgia for days of yore (ie., reasonable republicans?) led to an outpouring of heartfelt Twitter appreciation for the Bushes. Many viewers were simply happy to see them healthy enough to make symbolic public appearances again after their high-profile cancelation on President Trump's inauguration. Bush Sr. was the only living president who didn't attend the inauguration last month, although he sent his condolences and explained that doctors feared his health was too poor for the trip. (In fairness, the Super Bowl was much closer to home, so it stands to reason that this particular appearance was probably a lot less strenuous.) Celebs, journalists, pundits, and Twitter laypeople alike all expressed joy over seeing the former first couple out on the field. It was particularly ~patriotic~ to see President Bush wheeled out by a Navy man
Plenty of people pointed out the irony of feeling so happy to see a Bush onscreen. Aziz Ansari actually nailed this sentiment during a recent stint hosting Saturday Night Live, in which he joked in his stand-up-style opening monologue that he now frequently finds himself moved when watching old YouTube videos of George W. Bush speeches out of nostalgia.
Super Bowl viewers also noticed that when the cameras cut to Vice President Mike Pence, who was in attendance sitting a private box, during the coin toss, the crowd, who could see the feed in-stadium, reportedly booed loudly. It was a stark contrast to the eruption of cheers President and Barbara Bush enjoyed.
And, of course, no one was going to let the inauguration snub, followed by a Super Bowl honor two weeks later, go unnoticed. Whether the dip was strategic or a genuine self-care move, Twitter agreed that it was hilariously shady.
George H.W. Bush and George W. Bush have both enjoyed somewhat unexpected praise lately for their terms in office. As the only two surviving examples of presidential GOP leadership that we have, they serve as a somber reminder of what a different administration we're living under now.