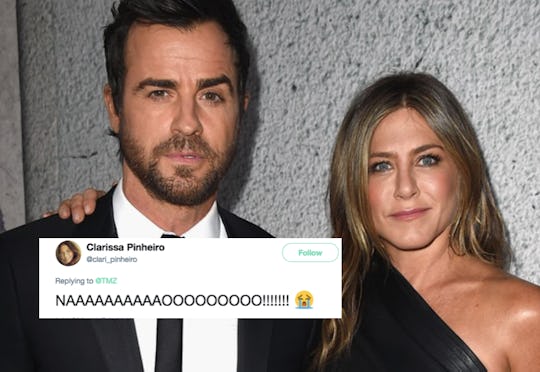 Kevin Winter/Getty Images Entertainment/Getty Images
Twitter Is Utterly Shattered That Jennifer Aniston & Justin Theroux Are Splitting Up
Say it isn't so! It seems yet another famous couple is calling it quits for good. (Is no Hollywood couple safe anymore?) After two years of marriage — and just one measly day after Valentine's Day — Jennifer Aniston is officially a single woman. That's because the actress and her now-ex, Justin Theroux, have announced via the Associated Press that they are no more. And tweets about Jennifer Aniston and Justin Theroux splitting up prove fans are heartbroken and just want to see the Friends actress get her happy ending.
Romper's requests for comment from both Aniston and Theroux's reps regarding the reports were not immediately returned.
Looking back, it seems the signs were there all along. People reported the pair had been spending a significant amount of time apart during the past few months. (Theroux had frequently been sighted in NYC, which isn't exactly near the couple's Los Angeles home.) Apparently, though, their split was "mutual and lovingly made at the end of last year," the AP reported. Per a joint statement, the couple elaborated, "Normally we would do this privately, but given that the gossip industry cannot resist an opportunity to speculate and invent, we wanted to convey the truth directly."
As Entertainment Tonight reported, Aniston and Theroux went on to say, "Whatever else is printed about us that is not directly from us, is someone else's fictional narrative." The statement continued, "Above all, we are determined to maintain the deep respect and love that we have for one another."
Many Twitter users were understandably devastated by the news.
Still, at least one person pointed out that Aniston still has a heck of a lot going for her.
Although Aniston and Theroux have only been married for two years, they've actually been together for many more years. It all started when the couple first met back in 2008 while on the set of Tropic Thunder, according to People. However, they didn't actually start dating until 2011, after which the pair married in August 2015. That's a pretty good chunk of time to have spent together, especially by Hollywood's standards.
If you remember (and really, who could forget,) Aniston's first husband was Brad Pitt. The iconic couple was married from 2000 to 2005 before infamously calling it quits, according to Us Weekly. "Conveniently," news of Brad Pitt and Angelina Jolie's separation — and Jolie's filing for divorce — made shockwaves in September 2016, reported E! News. At the time, the pair had been together for 11 years and had six children together. (By August 2017, however, Pitt and Jolie had put their divorce on hold, reported PopSugar. So who knows what'll ultimately come of that.) My point? Fans are noting Aniston's newly-single status and connecting the dots to Pitt's relationship woes. And boom. Suddenly, the idea of a rekindled Aniston-Pitt relationship is a very real possibility, in fans' minds.
Some Twitter users just have too many emotions about the mere possibility.
Others seem to be experiencing a serious case of nostalgia. Or perhaps deja vu is a better way to describe it.
Still, at least one Twitter user wants to shut down that line of thought before it starts spreading like wildfire. (Too late.)
And others hope Aniston ends up with a different man — or rather, that her former character on Friends, Rachel, ends up with Ross. (I'm not sure how that works IRL. Are they rooting for David Schwimmer? Hmmm.)
Clearly, fans have their own preferences for the man they want Jennifer Aniston to ultimately be with — and Brad Pitt is the top contender by a landslide. But maybe, just maybe, we should all stop for a moment and acknowledge that the actress might not be thinking about her next relationship at this point in time. (Guys, her marriage is ending. It's kind of a big deal.) Here's one thing I'm sure we can all agree on: That Jennifer Aniston — no matter who she is or isn't with — gets her "happy ending." And that doesn't necessarily require a man at all.
Check out Romper's new video series, Bearing The Motherload, where disagreeing parents from different sides of an issue sit down with a mediator and talk about how to support (and not judge) each other's parenting perspectives. New episodes air Mondays on Facebook.