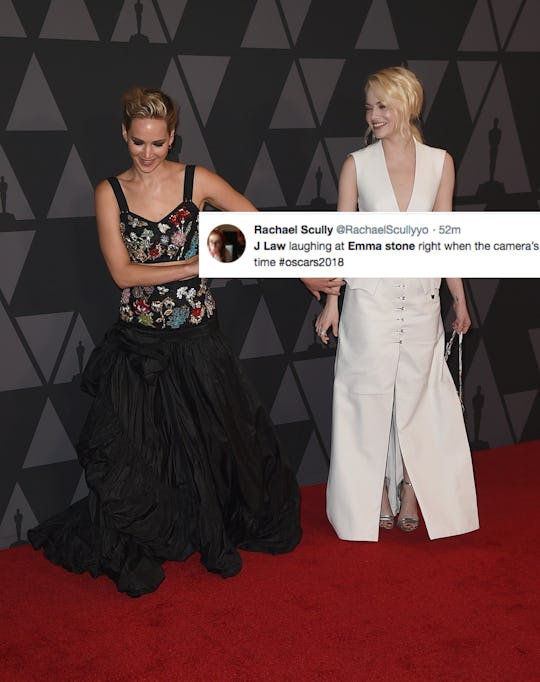 Kevin Winter/Getty Images Entertainment/Getty Images
J Law Laughing At Emma Stone At The Oscars Is Serious BFF Goals
It's the little things during the Academy Awards that really make the night. Everyone expects the gorgeous fashion and the long speeches, but it's the surprises that stick in your memory for years. And these tweets about Jennifer Lawrence laughing at Emma Stone at the Oscars prove that this blink-and-you'll-miss-it moment was one worth paying attention to.
Okay, people probably won't be waxing poetic for years to come about Jennifer Lawrence having a giggle at Emma Stone's expense. But it was a very relatable moment that probably called to mind any number of similar experiences you've had with your own friends. It happened during host Jimmy Kimmel's opening monologue, while he was commenting on last year's Best Picture mixup. Kimmel joked that winners shouldn't get up right away if they heard their name because you never knew what might happen.
The camera the cut to Stone and Lawrence, who were sitting side by side. Stone was grimacing a little, and Lawrence was quite literally pointing and laughing at her. They were basically making the faces besties make whenever something goes awry and one person is less thrilled about it then the other. And that's because of Stone's connection to last year's mishap — though she didn't really have anything to do with it.
As viewers of the 89th Annual Academy Awards will remember, Warren Beatty and Faye Dunaway were set to present the final award of the night — only instead of getting the envelope for Best Picture, they ended up with the one for Best Actress. Emma Stone had just won that category for La La Land, so it was her name and that movie on the card they received. As a result, Dunaway announced La La Land as the Best Picture winner even though it was actually Moonlight. Though Beatty seemed confused, no one realized the mistake until afterwards.
Obviously, Stone wasn't actually involved in the wrong envelopes getting shuffled around. It was a coincidence that her name happened to be on that card because her win had been announced not long before. But it's just like a friend not to let you forget your connection to any minor disaster, and nobody could blame Lawrence for having a good laugh over it. If your pal was in any way involved in the biggest Oscar shocker in recent memory, you'll bring it up whenever you could, too.
It was a delightfully normal moment of levity during the event. It also had some Twitter users wishing they could get in on Lawrence and Stone's friendship, which is totally understandable because Lawrence's cackle during the opening statements was just the latest in a long line of great moments between the two.
Their friendship has been well-documented in articles and on the red carpet, with W magazine even calling them "the quintessential Hollywood BFFs." They've played off each other well in joint interviews that prove they share the same sense of humor and really know how to make each other laugh — even when the subject of the joke isn't a mistakenly awarded Oscar. It seems like par for the course for the two to have a moment like the one at the Oscars, though Stone didn't seem quite as overwhelmed with amusement as Lawrence.
Lawrence and Stone's friendship seems utterly genuine, which was what made their shared moment resonate so much with viewers watching at home. It wasn't posed or planned ahead of time; it was just two friends sitting together during an event, with one poking fun at the other. At such a formal and prestigious ceremony as the Academy Awards, it's good to be reminded that celebrities are, as the tabloids say, just like us.
Check out Romper's new video series, Romper's Doula Diaries:
Watch full episodes of Romper's Doula Diaries on Facebook Watch.