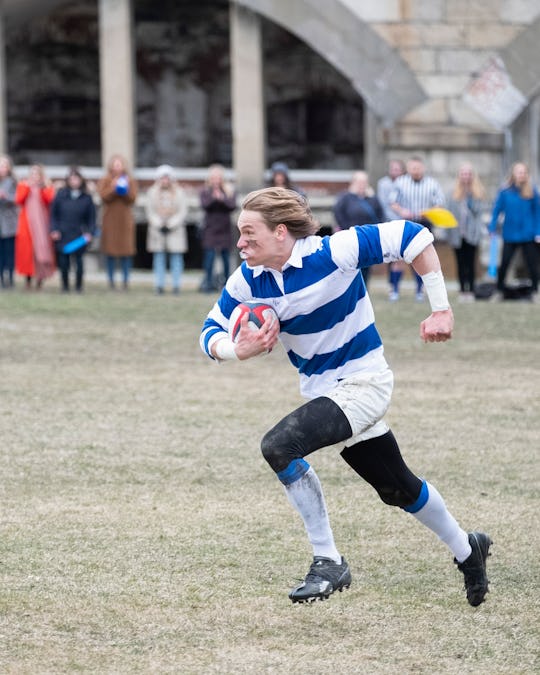 Robert Clark/ABC
Twitter Wants To See John Paul Jones From 'The Bachelorette' In Paradise Stat
John Paul Jones is among the more polarizing figures on Hannah's season of The Bachelorette, but unlike a true villain, he's extremely entertaining at best, and only sort of irritating at worst. He's ideal Bachelor in Paradise material and tweets about John Paul Jones prove that fans are dying to see him there. They even have some potential matches in mind.
John Paul Jones first joined on night one with few defining characteristics besides the fact that he comes across as a rich kid villain on an early 2000s teen drama set in California, and he says his full name every time he speaks it. But John Paul Jones has become so much more. From quietly housing a plate of chicken nuggets in the background of confrontations to being the life of group dates, John Paul Jones is, as former Bachelor Nick Viall put it, "a national treasure." And he isn't being remotely hyperbolic.
As for John Paul Jones' future with the franchise, the Bachelor in Paradise cast hasn't been confirmed yet — and he's obviously technically still in the running with Hannah. But since John Paul Jones mostly seems to be around for entertainment value at this point, it's fair for Bachelor Nation to assume that his real future is as a fan favorite on Paradise.
John Paul Jones and Hannah have enjoyed a few group dates together. He braved the labor simulator on Hannah's group date through the female reproductive system, for example, and made some truly memorable faces. And later, he zipped down the rugby pitch on the "blood, sweat, and tears"-themed group date in Boston, which resulted in an equally gifable clip of him wearing a huge mouth guard. John Paul Jones is basically a total goofball with a smarmy veneer, and it's pretty hard not to appreciate him.
Unfortunately, John Paul Jones hasn't been on any one-on-one dates with Hannah thus far, and it seems like some of her other connections are much stronger. He has a lot of ground to make up and doesn't appear to be on Hannah's shortlist for getting a one-on-one anytime soon. It just doesn't seem like he can ~get there~ as they say in Bachelorette parlance. But there is a bright side to this.
The overwhelming favorite pairing fans want to see happen in Paradise is John Paul Jones and Demi, whom viewers have already seen in a few cameo appearances this season on The Bachelorette. She and Hannah are close friends from Colton's season of The Bachelor, and Hannah trusts her so much that she tapped Demi to help screen her guys this season. If John Paul Jones and Hannah got too close, then I could see Demi invoking girl code in Paradise and eliminating him as a potential match on principle. As long as John Paul Jones and Hannah stay on more neutral territory, I think he and Demi stand a good chance of going on a date later this summer, making fan dreams come true.