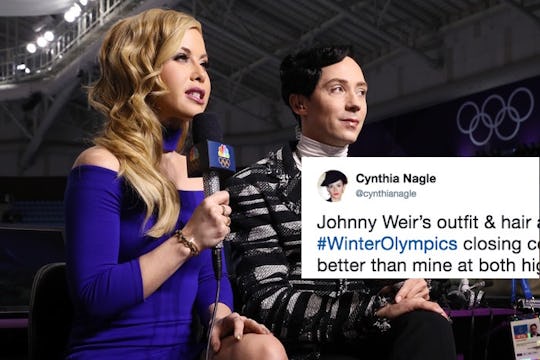 Jamie Squire/Getty Images Sport/Getty Images
Twitter Can't Stop Talking About Johnny Weir's Outfit At The Winter Olympics Closing Ceremony
Olympic athletes are talented in more ways than one. Take Olympic commentator and former Olympic figure skater Johnny Weir, for example. Weir is talented in two ways: his knowledge for all things skating and his ability to pick out a killer outfit. The latter of which took center stage during the closing ceremony at the 2018 Winter Olympics. Really, these tweets about Johnny Weir's outfit at the closing ceremony show that he was not leaving the Olympics without a bang and showing everyone just how stylish he can be.
If you had the opportunity to reach millions of people all across the world, wouldn't you want to look your best? Weir obviously seems to think so from the way he has been dressing throughout the past two weeks during the Winter Olympics. From the colors, to the statement pieces, to his hair styles, every single detail of his outfits have been on point.
Weir isn't afraid to make a statement with his outfits, which has been clear. But on Sunday, during the closing ceremony, his style came to a head and showed just how big of a star he really is — literally. Weir wore the most fabulous white suit you will ever see with a bedazzled shooting star stuck in his updo. Needless to say, people on Twitter were seriously impressed by Weir's penultimate look for this year's Olympics.
His hair is what dreams (or the fashion from dystopian novels) are made of.
His look was so good, it was hot enough to melt any ice or snow still remaining at the Olympics.
But really, if you have been watching the Olympics broadcast during the past two weeks, then it shouldn't come as a surprise that Weir's style would come out on a high note. And it shouldn't come as a surprise that Weir takes pride in dressing, especially since he traveled to South Korea with 13 suitcases filled with the finest designer clothes, according to The New York Times.
Dressing as well as Weir has for the past two weeks doesn't come that easily — according to The New York Times, it took two women to help him do his hair and makeup every single day during the Olympics. Because it takes that much work to look that good, Weir is understandably proud of his fashion choices (as well as coordinating so well with fellow commentator, Tara Lipinski). "We love fashion, we love clothing, we love just slaying our style and our art, because it's part of being an entertainer," Weir told People.
Weir further told the New York Times that this fashion philosophy extends beyond just looking good:
My clothing are my treasures, my Picassos. I didn't grow up with much, so when I purchase or own something, it's more about the experiences that I had to be able to afford that thing, that memory of where I bought it. Everything has meaning. It isn't just a sparkly jacket.
If this is the case, perhaps the shooting star in Weir's hair symbolized his breakout performance at the Winter Olympics or the fact that he was a bright star among all of the amazing standout performances during this year's Olympics (which there were a lot of). Needless to say, people on Twitter are going to miss seeing Weir and his incredible outfit choices every single day (and only time will tell if he comes back to commentate for the 2022 Winter Olympics).
The good news is, Weir does have an Instagram account where he documents all of his amazing outfits and hair styles. It might not be the same as turning on your TV every day and watching his commentary (and outfit choices), but his Instagram can keep you in the loop if you're missing his amazing fashion choices long after the Olympics are over.
While the Olympics are super exciting in their own right, Weir's outfit choices certainly made the 2018 Winter Olympics a lot better and perhaps a bit more memorable.
Check out Romper's new video series, Romper's Doula Diaries:
Watch full episodes of Romper's Doula Diaries on Facebook Watch.