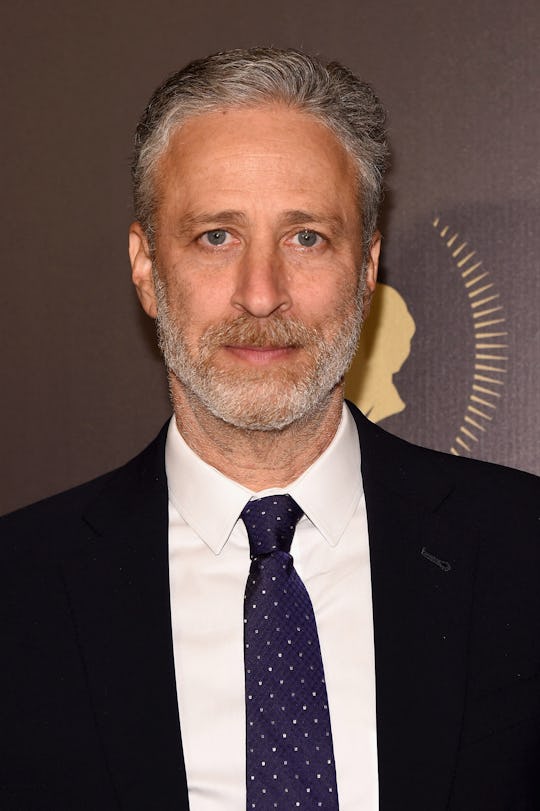 Gary Gershoff/Getty Images Entertainment/Getty Images
Tweets About Jon Stewart's Beard Should Make Him Blush
He's back y'all. The beloved Jon Stewart returned for one of his first late-night TV show appearances since his retirement on Thursday night, and longtime fans of Stewart were excited, to say the least. How could they not be? Stewart appeared on Stephen Colbert's The Late Show and held no punches as he criticized Fox News for its biased coverage of Donald Trump, and called out the discriminatory rhetoric spewed by the Republican presidential nominee himself. Besides bringing his usual wit, fans were excited about something else the retired late-night talk show host brought with him: his beard of course. Tweets about Jon Stewart's beard should make him blush. Apparently, the beard is werking for him.
And a beard like Stewart's certainly didn't happen over night. Last year, People cited a Politico report capturing Stewart explaining why he decided to grow his beard after retiring from The Daily Show during a stand-up routine.
"So I grew a beard because everybody who quits a talk show grows a beard," Stewart said. "Mine is white. ... I look old, right? It's f*cking weird, right? Because when you're on television they do makeup and the lighting is just right and you're wearing a nice suit and everything – and now you're seeing me as I normally am."
Well if this is Stewart's new normal, then fans of his beard rejoice. And since Thursday night's appearance, they've done just that. "I know it's not the most pressing issue at hand but shoutout to [Jon Stewart]'s silvery-snowy beard situation. :eyes emoji:" one Twitter user wrote.
‌Back in 2010, when Stewart teased his what would-soon-become notable beard, the comic jokingly credited the silvery beginnings of his beard to accidentally dipping his chin in marshmallow fluff. "It's not the aging process," Stewart said on The Daily Show according to US Weekly. "This morning I was actually making breakfast for my kids. They enjoy an egg and fluffernutter omelet, and let me show you what happened."
Stewart kicked off his segment on The Late Show with a dig at Trump, and his speech at the RNC Thursday night.
Well the convention's over, I thought Donald Trump was going to speak. Ivanka said that he was going to come out – she said he was really compassionate and generous, but then this angry groundhog came out. And he just vomited on everybody for an hour.
It seems many agreed with Stewart's sentiments, and enjoyed his sarcasm and digs for old times' sake, but clearly it was his beard that took hold of his fans' hearts. Stewart's fans have spoken... the beard is a winner.