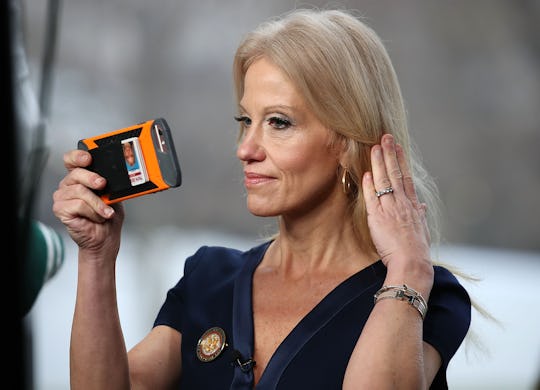 Mark Wilson/Getty Images News/Getty Images
Conway Says Microwaves Can Be Wire-Tapped
On Monday morning, President Donald Trump's counselor and former campaign manager Kellyanne Conway once again made headlines for serving up some "alternative facts" on national television — a term that she gave us, after all. On Monday morning, Conway spoke to Good Morning America about claims Trump made that Trump Tower had been wiretapped by former President Barack Obama during the 2016 presidential campaign. Her response immediately started trending on Twitter, and as the tweets about Kellyanne Conway's "spying microwave" comments show, most Americans are no longer surprised by these types of comments.
In case you missed it, a week ago President Trump claimed that Obama had wiretapped Trump Tower during the 2016 presidential campaign — a claim that has been refuted by a spokesperson for the Obamas, former director of national intelligence James Clapper, and possibly even current FBI Director James Comey, according to CNN. Trump has offered no evidence to support this claim, but that didn't stop Conway from alleging to the Bergen Record that surveillance of any kind could been done through appliances — specifically televisions and microwaves:
You can surveil people through their phones, through their — certainly through their television sets, any number of different ways. And microwaves that turn into cameras, et cetera.
Romper reached out to the White House for comment regarding Trump and Conway's allegations, but has not heard back.
Conway told Good Morning America on Monday morning that her comments about surveillance were not specific to Trump's allegations, according to TIME:
The answer is I don't have any evidence and I'm very happy that the House intelligence committee are investigating.
In fact, Monday is the deadline for the Department of Justice to provide some form of evidence to support Trump's wiretap claims to the House Intelligence Committee, according to ABC News. Conway said more during her next interview with CNN, according to The Washington Post:
I'm not Inspector Gadget. I don't believe people are using the microwave to spy on the Trump campaign. However, I'm not in the job of having evidence. That's what investigations are for. I have said many, many times throughout the week that the president is pleased that the House and Senate intelligence committees have agreed that this should be part of the investigation that already exists about Russia and the campaign, an investigation that apparently has gone nowhere so far.
Conway's remarks, once again, earned her a spot on Twitter's trending list of hashtags, and while the American people have begun to expect this type of commentary from the Trump administration, and often utilize social media to make light of it, many have also pointed out that this is not the time to become complacent. As many have said from the inauguration, these things are far from "normal" behaviors of a sitting president.
While Conway's comments about microwave spying might be a little odd, they wouldn't have happened if the sitting president had not taken to Twitter to baselessly accuse his predecessor of spying when there are immediate and pertinent issues of national security at hand. Last week, Wikileaks dumped nearly 8,000 documents that claim to "out" the surveillance processes of the Central Intelligence Agency, according to TIME — and validating the veracity of those documents seems like it would be a little more worthy of presidential interest than, say, slandering the previous president on social media.