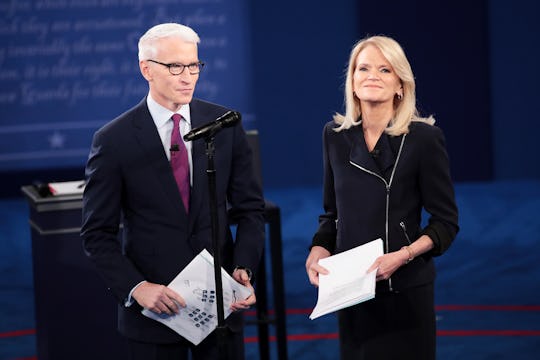 Scott Olson/Getty Images News/Getty Images
Tweets About Martha Raddatz Moderating The Presidential Debate Reveal The True Winner
Sunday night's town hall-style presidential debate was quite a departure from the formal, structured debate hosted by Lester Holt in September. Half of the questions came from the audience of undecided voters at Washington University in St. Louis, while the other half were posed by moderators Anderson Cooper and Martha Raddatz, whose questions were "influenced by voters' concerns voiced on social media," according to Forbes. Many viewers were frustrated by Holt's failure to fact-check Republican candidate Donald Trump's statements at the first debate, and these tweets about Martha Raddatz moderating the presidential debate show that she didn't let him get away with any shenannigans.
Raddatz, who currently serves as Chief Global Affairs Correspondent for ABC News, previously served as a White House correspondent during the first Bush administration, and has reported from conflict zones. She won praise for her moderation of the 2012 vice presidential debate, where she kept both candidates, Wisconsin Rep. Paul Ryan and Vice President Joe Biden, on task. Many viewers were also impressed with her follow-up, an important skill in the presidential debate, as a certain candidate has a history of avoiding questions. On Sunday, Raddatz made it clear that she wouldn't tolerate such practices. Twitter users were quick to notice:
Throughout the night, Raddatz went up against Trump more than Anderson Cooper or Hillary Clinton did. She held her own, as women often have to do on these debate stages, and she did not let Trump get away with speaking over his allotted amount of time. Trump didn't like that and consistently mentioned that he was getting cut off a lot more than Hillary Clinton when she would go over time. Raddatz denied this and graciously let Trump continue... until his time was actually up.
Good night, Martha, and I hope that somewhere in St. Louis, someone is rubbing your shoulders right now.