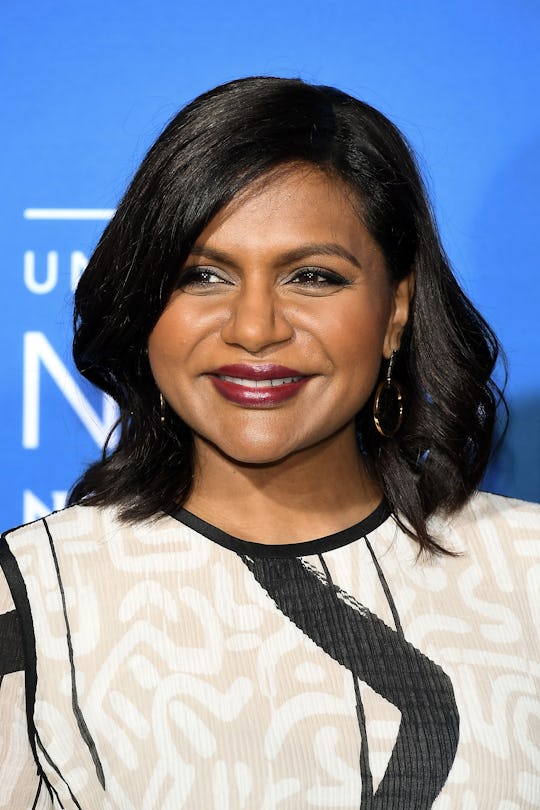 Dia Dipasupil/Getty Images Entertainment/Getty Images
The Best Tweets About Mindy Kaling's Pregnancy
Actress Mindy Kaling is pregnant with her first child, E! News reported Monday. Given how much the Wrinkle In Time star has talked about wanting kids one day, this is wonderful news for both the actress and Kaling fans as well, who were eager to voice their excitement on social media. If the internet has felt like a place of mom-shaming and discontent recently, these tweets about Mindy Kaling's pregnancy will definitely help remedy that dreariness.
An unnamed source confirmed the news and called the announcement "an unexpected surprise," according to E! News. (Romper has reached out to Kaling's rep for comment on the pregnancy report and is awaiting a response.) Still, the timing of the happy news would seem to work well for the actress. Kaling finished filming her role as Mrs. Who in Ava DuVerney's adaptation of the Disney classic A Wrinkle In Time earlier this year; The film, which also stars Oprah Winfrey and Reese Witherspoon, is slated for release in March 2018. And in March, Kaling announced that the sixth and final season of her hit series The Mindy Project would air on Hulu later this year.
It's no wonder that fans are losing their minds over Kaling's news. Whether she's delivering some of the best one-liners on Twitter, through the characters she's written, or in her best-selling book, Is Everyone Hanging Out Without Me?, Kaling is funny and sharp in a way that's also completely relatable. So that means, for many fans, it almost felt like hearing that a good friend had suddenly announced her pregnancy.
Along with the good wishes, several fans offered to change their own life plans to help the actress with her pregnancy and baby.
And a few other fans had clear ideas about who Kaling's partner-in-pregnancy should be:
Speaking to Yahoo! Style two years ago, Kaling was quite clear on wanting to have kids in the near future — with the right partner:
I think I've decided that unlike everything else in my life, I'm going to be fast and loose about kids. I'm going to not actively plan, but if it happens, it would happen. I'm not cavalier about who I would have a kid with. But the thing I ask every parent that I really admire, the one comment they all have is that they wish they had kids earlier.
But, Kaling was also clear that marriage wasn't necessarily a top priority:
I admire [a good marriage] when I see it. I think it's a beautiful thing. In my 20s, and especially in my teens, I completely fetishized a wedding. But I think much less about marriage now. It's less interesting to me.
It's nice when the internet can unite around happy news, isn't it?
Fans will have to wait a bit longer for more details on Kaling's reported baby-to-be. The source did not offer details on when Kaling's baby might be due, according to E! News, except to say that there shouldn't be any need to make changes to the production schedules for any upcoming projects.
Basically, for now, we can all shed the terrible weight of the world and all it's dumpster fires and appreciate the simple fact that Mindy Kaling is (reportedly) about to be a mom. And really, that's all anyone needs in life to be happy.