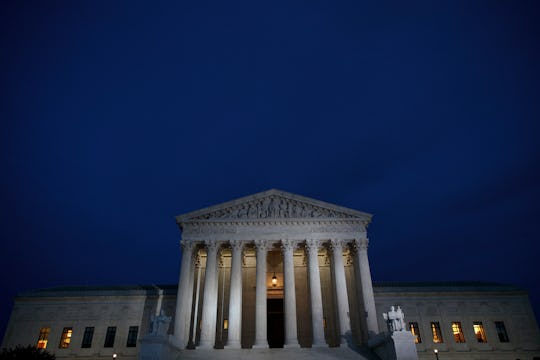 Drew Angerer/Getty Images News/Getty Images
Twitter Has Thoughts About Gorsuch's Nomination
Putting an end to spiraling speculation, President Donald Trump has finally announced his pick for the newest Supreme Court nominee. Whereas the Senate has yet to weigh in as to whether they'll accept Neil Gorsuch for the job, Twitter certainly voiced its own judgements, following Trump's live address on Tuesday night. Tweets about Neil Gorsuch's SCOTUS nomination show that, for many Democrats, the choice is about as unacceptable and ill-advised as Trump's executive directives have been. Trump supporters, on the other hand, lauded his choice.
The SCOTUS announcement was made on primetime television, glamorized by multiple live news broadcasts. Unfortunately, though, this could just be the beginning of more drama to come. The vacancy left by Justice Antonin Scalia's death a year ago has had both Democrats and Republicans alike jockeying for a member of their party to fill the spot. President Barack Obama's SCOTUS nominee, Merrick B. Garland, was not even considered by Senate Republicans as an option. As Obama's SCOTUS nomination officially expired on Jan. 3, Republicans failed to grant Garland so much as a hearing for 293 days, causing tensions to rise between parties.
Now, Democrats have pledged to be just as petty as Republicans once were, promising a Senate filibuster. If a filibuster is allowed, 60 senators must vote in favor of Trump's pick — meaning at least eight Democrats would need to align with 52 pro-nominee Republicans. If that doesn't happen, the nomination would die. If Republicans choose to fight fire with fire, though, they could completely deny a filibuster, The Los Angeles Times noted, and pass Trump's nomination through, assuming all of the Republicans remain unified, because they have the majority in the Senate. Only time will tell.
On Tuesday night, trending under the hashtags #SCOTUS and #NotoNeil, Twitter users exploded with their respective praises and concerns about Gorsuch. Examining key aspects of his background, including his religious stances and his record with women's rights, many found fault with the nomination. What's more, many weren't yet willing to let Garland's name go:
Many Democrats vowed to object Trump's SCOTUS pick before the choice was even announced. Given the turbulent and unpredictable nature of Trump's White House appointments, it would be surprising to see the nomination go over smoothly, despite Gorsuch's qualified background. Many speculate, however, that Gorsuch is moderate enough of a pick that Democrats might decide, instead, to save their energy for another fight. Regardless, Democratic senators will need to huddle together and plot the directed course of action that best pleases their constituents. The viability of the party could very well depend on it.