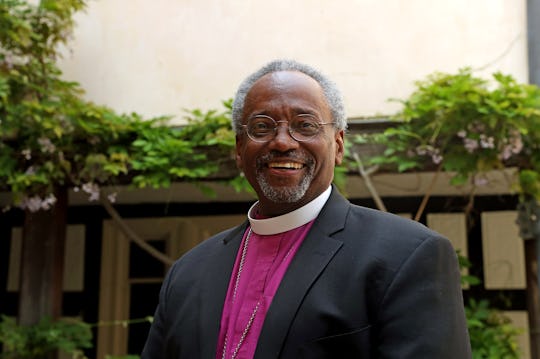 WPA Pool/Getty Images Entertainment/Getty Images
Tweets About Reverend Michael Curry At The Royal Wedding Prove He Absolutely Stole The Show
Some may say that Saturday was Meghan Markle's day. That was the day, of course, that she officially wed Prince Harry and became the Duchess of Sussex. But, don't be fooled. While Saturday was about Meghan Markle, she almost didn't have the spotlight the entire time. No, that would be Reverend Michael Curry at the royal wedding. The reverend who preached at the royal wedding and gave a sermon that literally had the internet on the floor stole the show and tweets about it prove that he was the true star of the day.
Coming from Chicago, as the head of the Episcopal Church, Bishop Michael Curry added an energy to the royal wedding that was, dare I say, really missing from Kate Middleton and Prince William's wedding in 2011. According to Vox, this breaks tradition in that most people who address wedding guests are those in a high position of the Church of England. Michael Curry is not that, but he was allowed at the royal wedding per the invitation of Prince Harry and Meghan Markle.
When Curry took the stage, with an iPad in hand, it was obvious that he was going to truly make a Moment, with a capital M, during the royal wedding.
Some Couldn't Believe Just How Amazing He Was
Despite a very formal setting, that usually has a tight script, it was refreshing and honestly way more enjoyable to watch someone speak with passion at the royal wedding. Instead of just reading from a order of service — which kind of felt stale, no offense to the archbishop — you could tell that Curry really enjoyed being there and speaking to not only the happy couple, but the entire world.
Some Noticed How Unprepared Guests Were For Such A Powerful Sermon
It was kind of hard to ignore some of the faces in the audience as Curry spoke, just like Elton John's above. The audience, was noticeably, majority white. And Twitter users seemed to pick up on the fact that maybe they were all a little surprised by it.
People *Loved* That He Used An iPad
As Twitter user Caroline Carter says, Curry mixed technology and tradition, which seems to make sense for this wedding. The 2018 royal wedding compared to the 2011 royal wedding differs so much in the sense of being modern. While the 2011 wedding of Prince William and Kate Middleton was beautiful, don't get me wrong, it felt very by the book. It didn't include a lot of off-the-cuff personalized touches, where as this royal wedding does. From the reverend, to the cellist, to the music that was played ("Stand By Me" anyone?), it was obvious that something Meghan Markle and Prince Harry strived for was for their wedding to feel like them — which, arguably, could be more accessible. Harry has always felt more "of the people," and Meghan is an American.
Overall, Michael Curry brought a beautiful sermon to the royal wedding and spoke on such important topics for a modern love like Harry and Meghan to consider as they enter into life as husband and wife.